The Good Kind Of Snap: 35+ Behind-The-Scenes Snapshots From The MCU
By Jishnu B April 30, 2023
---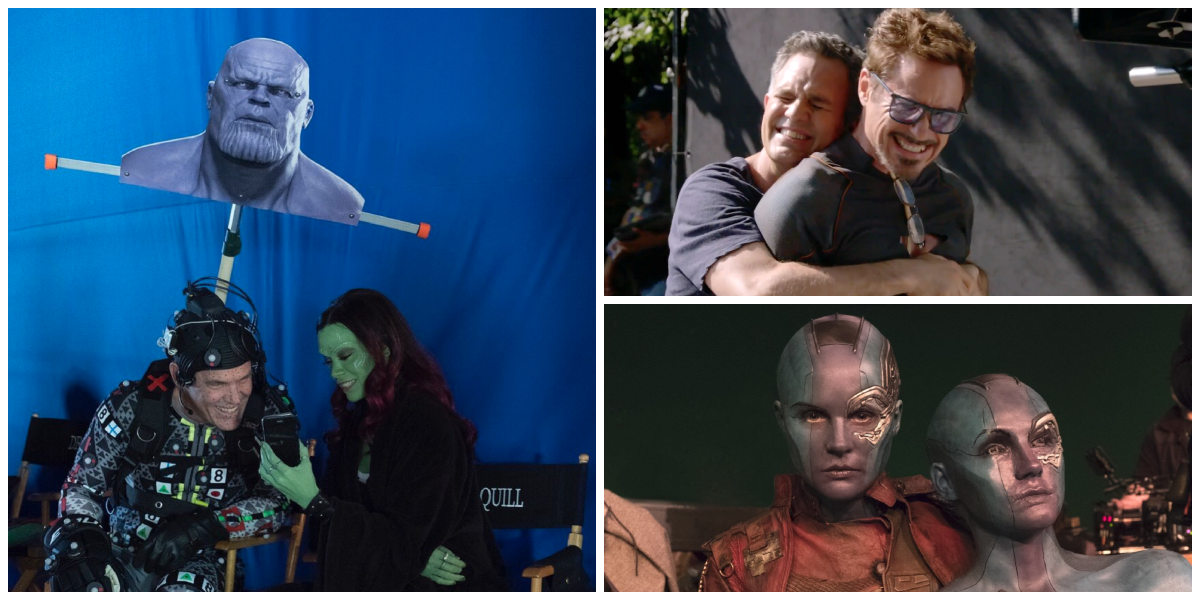 Hold on to your superhero capes, folks, because we're about to take a journey behind the curtain and into the mystical world of Marvel! Get ready to witness the extraordinary sights that most mortals never get to see.—from the Avengers sipping coffee between takes to Doctor Strange practicing his spells in the parking lot. From the daring stunts to the heartwarming moments, this is a glimpse into the extraordinary world of Marvel that will leave you spellbound.
These candid behind-the-scenes photos capture the essence of what it's like to be a Marvel hero, showcasing their off-duty antics, hilarious bloopers, and raw emotions that are usually reserved for the big screen. So, sit back, relax, and let us transport you to the magical world of Marvel like you've never seen before!
Taking A Break
Samuel L. Jackson is one of the most iconic actors in Hollywood. He's known for his roles in films like Pulp Fiction, Django Unchained, and of course, the Marvel Cinematic Universe. On the set of one of his MCU movies, Jackson was caught on camera in a casual moment, leaning against a cop car.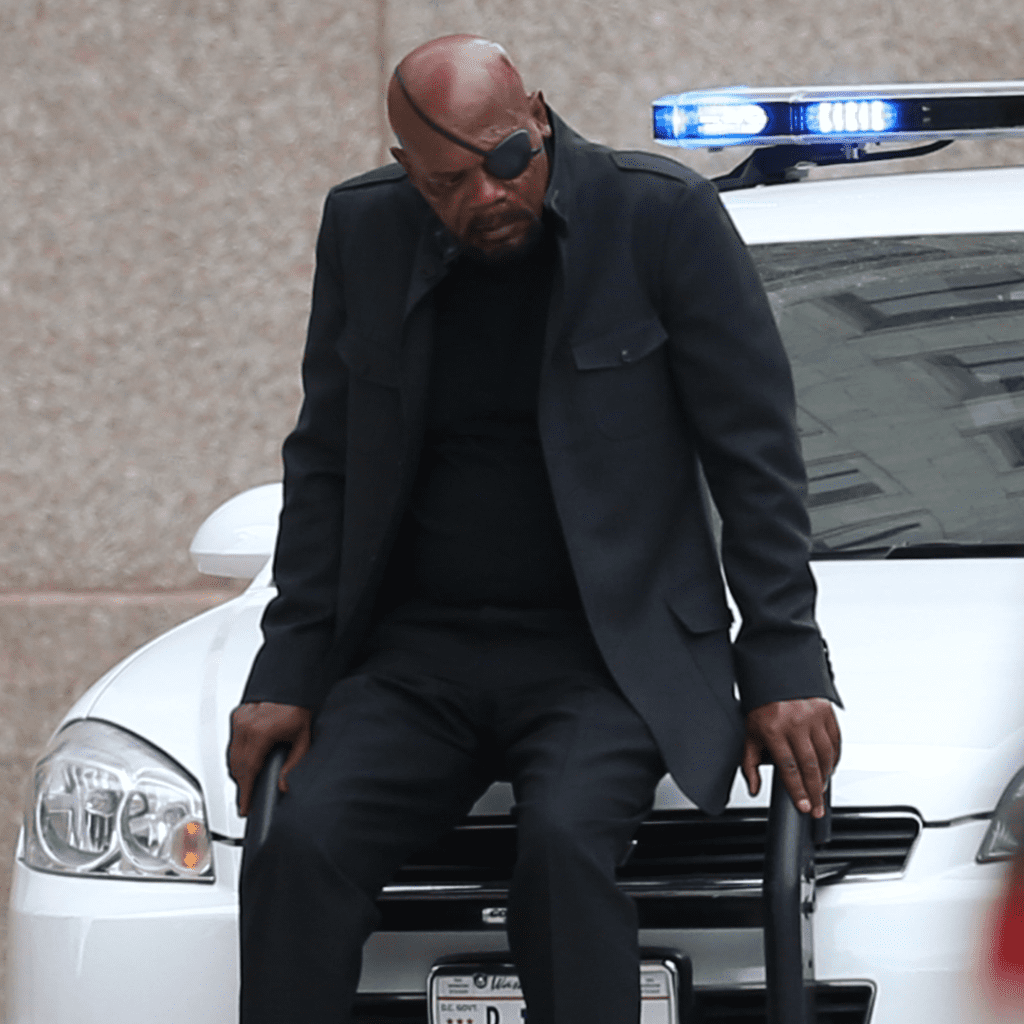 The picture, which quickly went viral on social media, shows Jackson in full Nick Fury attire—black leather jacket, eyepatch, and all. He looks relaxed and at ease, as if he's taking a break from the action-packed scenes Jackson often finds himself in.
Saved The Day
Evan Peters stole the show in X-Men: Apocalypse in 2016 with his performance as Quicksilver. But it wasn't just his acting that won over audiences – it was the scene where he saves the day by running at superhuman speed through the X-Mansion as it explodes around him.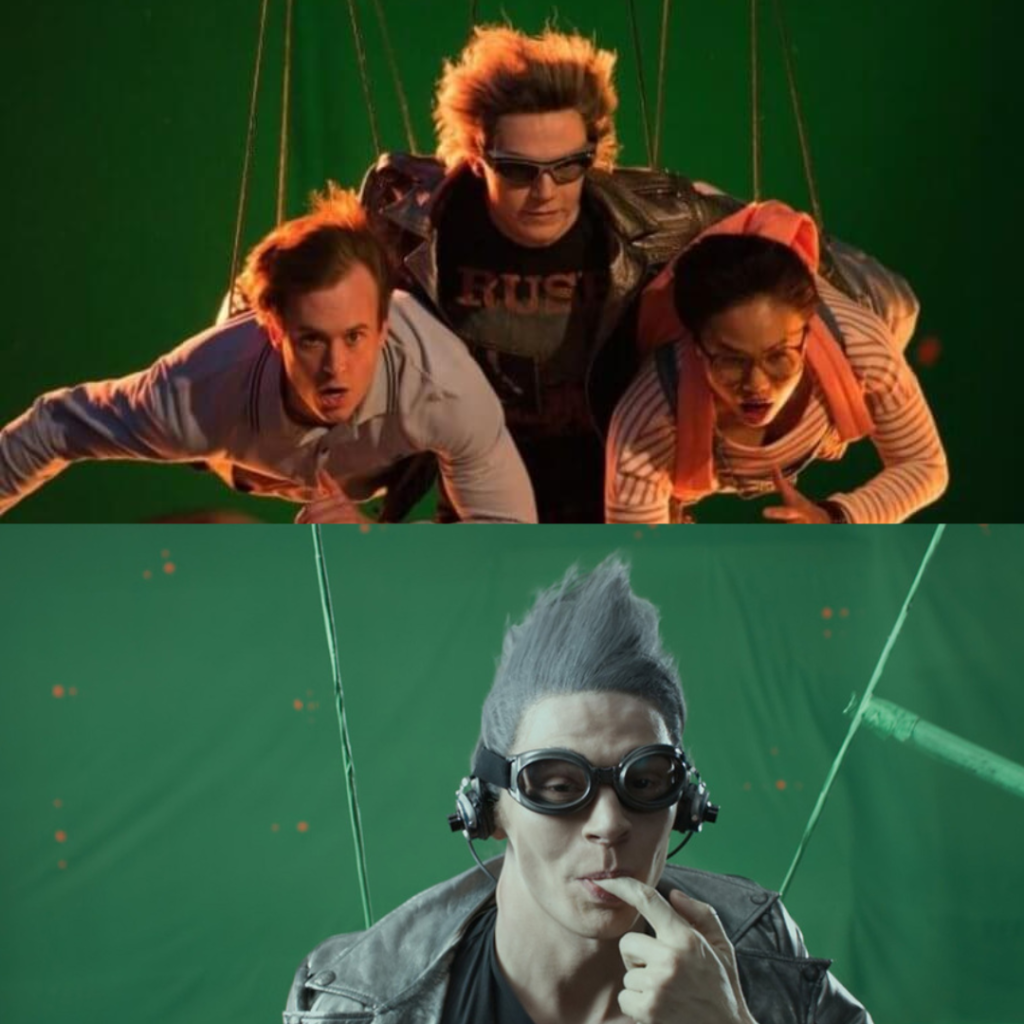 In the scene, Peters' Quicksilver can be seen moving at lightning speed, rescuing each of his fellow mutants from certain death as debris rains down around them. In reality, this breathtaking sequence was filmed with the help of some wires and stellar acting.
Weekly Stroll
When it comes to making blockbuster superhero movies, cinematographers make sure they get the perfect angle when filming. And while Marvel stars don't really have any "bad sides," there are plenty of angles that the camera isn't focusing on when the director calls "action."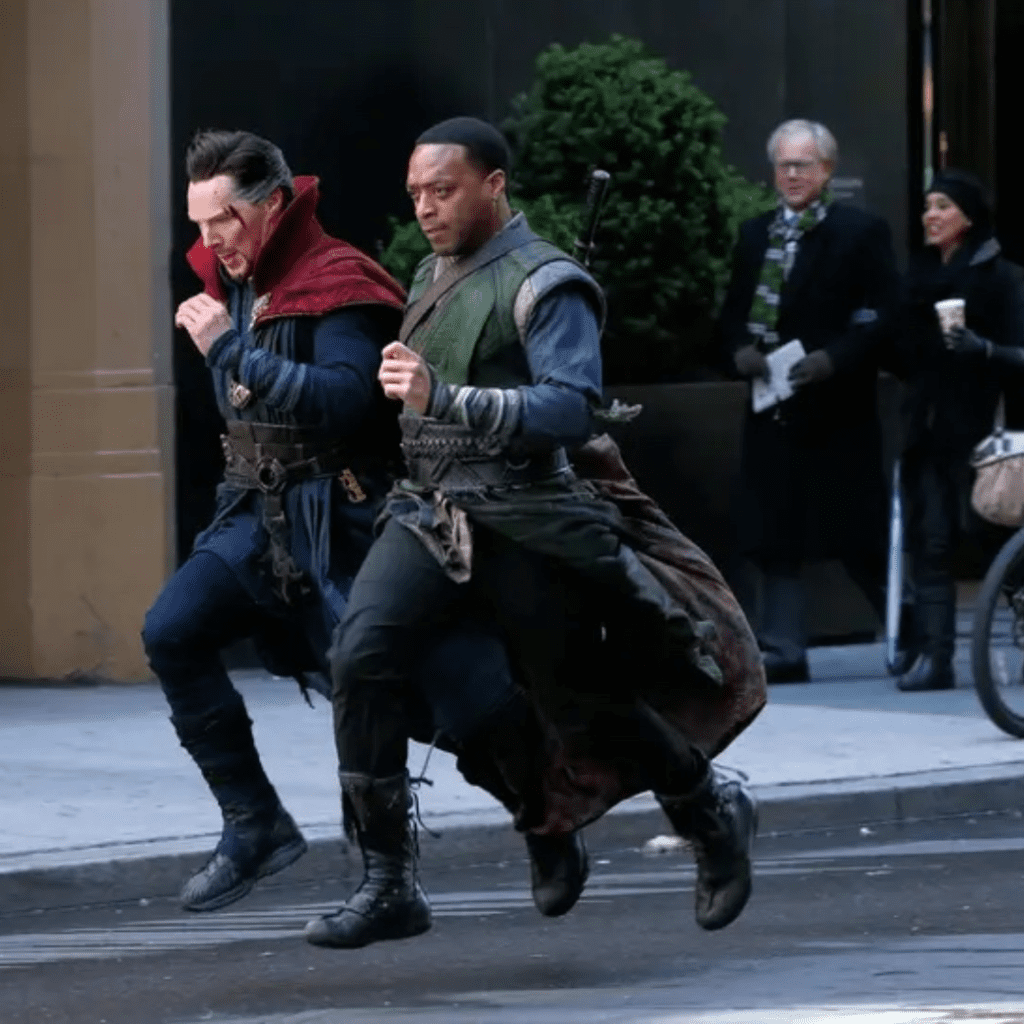 While filming Doctor Strange (2016), someone managed to capture the Marvel magic in action with this picture of Benedict Cumberbatch (Doctor Strange) and Chiwetel Ejiofor (Karl Mordo) sprinting down the street. With their capes billowing behind them and their serious expressions, they looked every bit the part of superhero and villain.
Here For A Good Time
Chris Evans, THE Captain America, has won the hearts of fans around the world with his talent, charm, and good looks. But in a behind-the-scenes photo that recently surfaced, we see that he also loves to laugh and have a good time with his co-stars.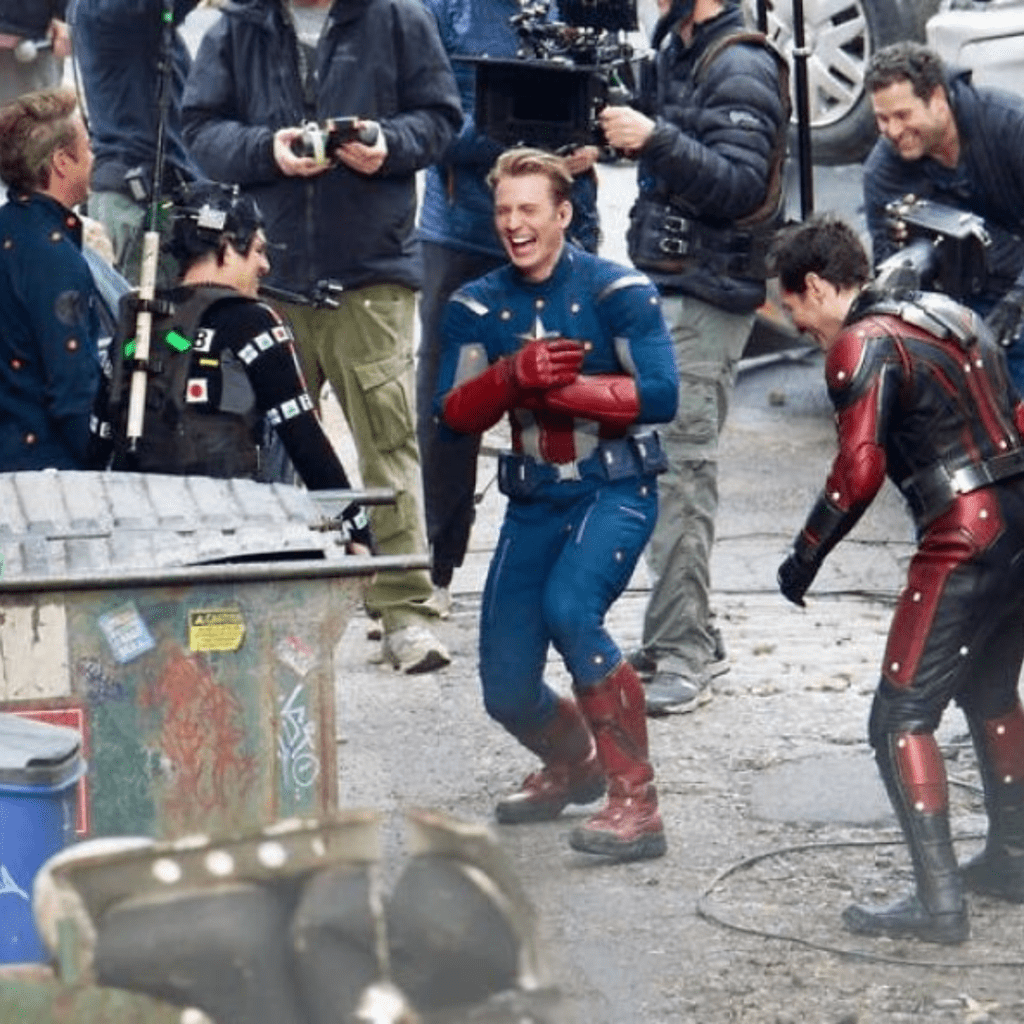 It's clear that the other actors are having a great time on set, and it's hard not to smile along with them. Perhaps it's the camaraderie that comes with working on a Marvel movie or the fact that these actors have become close friends over the years.
Sworn Enemies in Reel, Friends in Reality
The set of Ant-Man and the Wasp was filled with energy and excitement. But even with all the action and drama happening on screen, the actors kicked off their boots and relaxed during their breaks. They left rivalries behind when the camera stopped rolling.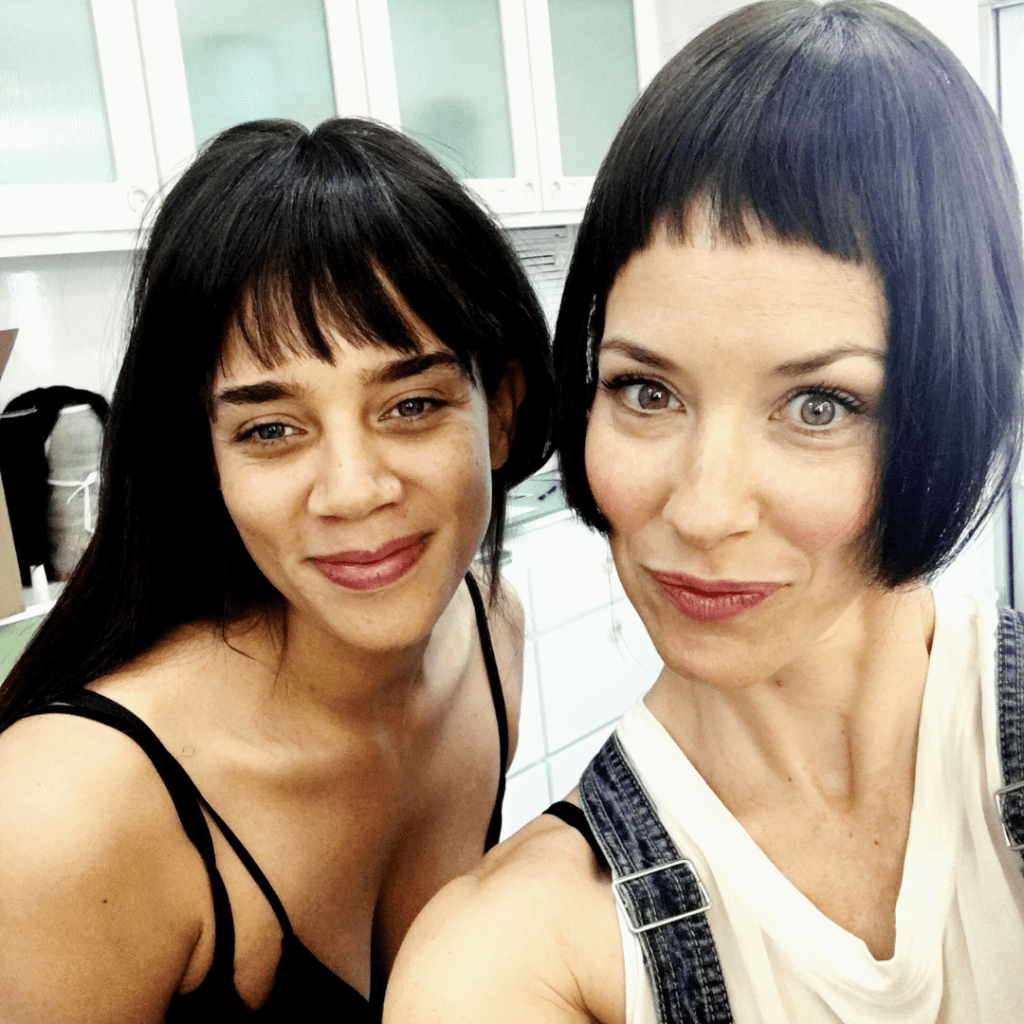 Even from day one, the actors were hanging out. One such moment was captured in a behind-the-scenes photo of Evangeline Lilly and Hannah John-Kamen, who played Hope van Dyne and Ghost, respectively. It's not surprising that Lilly and John-Kamen were able to form a strong bond on set.
Dedication
For almost two decades, Hugh Jackman has brought Wolverine to life. He's so captivating, it's almost hard to believe that the Aussie actor doesn't actually have Adamantium claws. In 2013, he suited up once again for X-Men: Days of Future Past.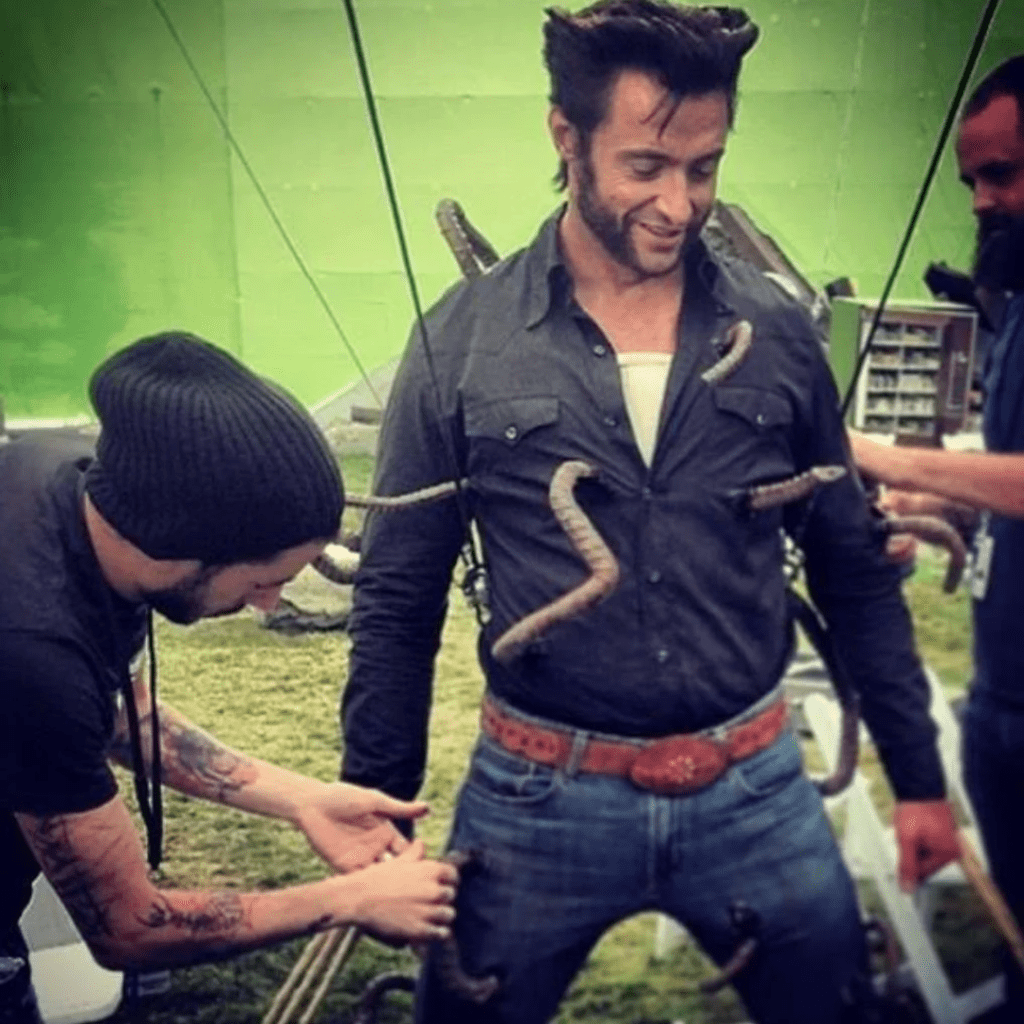 Though Wolverine gets impaled, Jackman certainly doesn't, so he had to patiently wait while the special effects team got to work. Jackman's expression is a mix of determination and amusement, showing his willingness to go the extra mile for the character.
Chill Times
Avengers: Infinity War was filled with high stakes, and the talented cast gave it their all, so it's no surprise that they took time to unwind during their downtime on set. Notorious spoiler alert Tom Hollan shared a photo of himself chilling out between takes with Chris Pratt and Karen Gillan.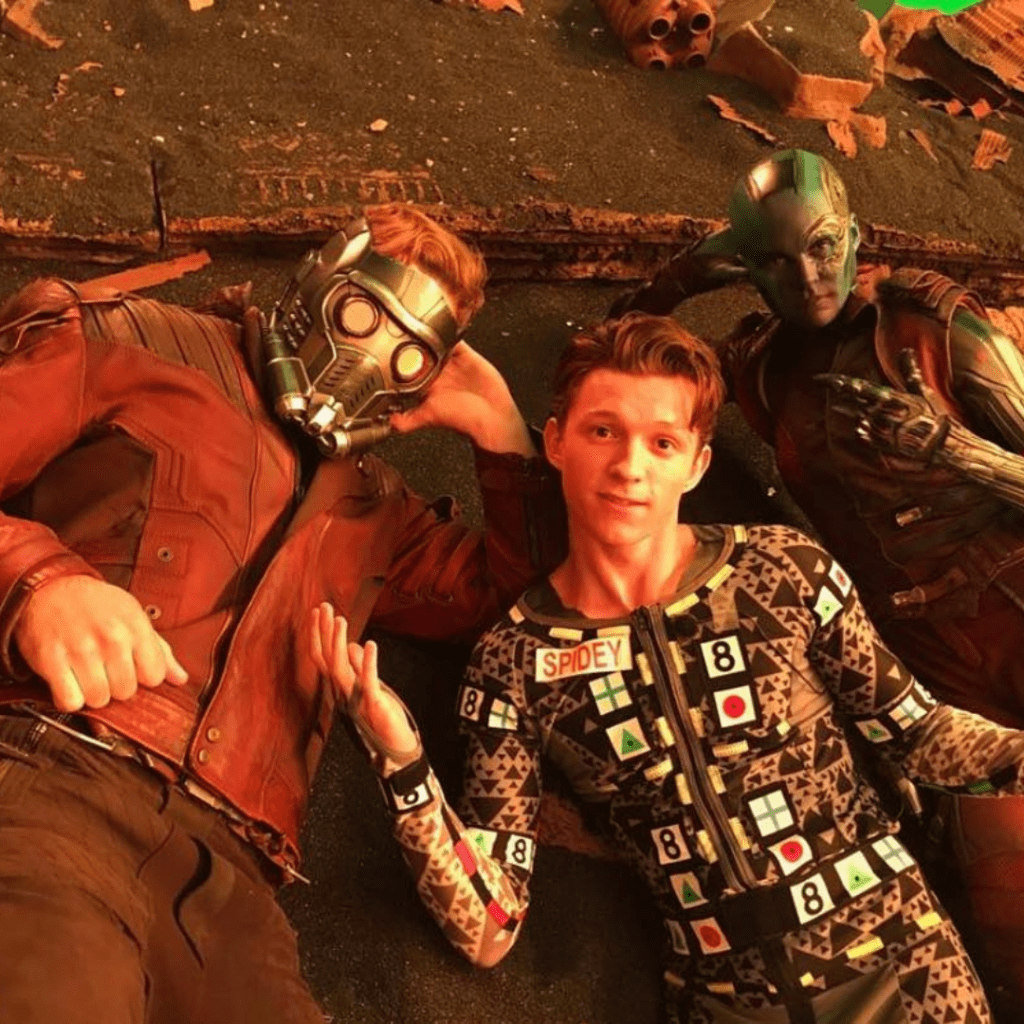 While we can't see Pratt's face behind the mask, we wouldn't be surprised if he was making a goofy face under there. And it seems like Gillan can stay in character, even for candid moments like this. Or maybe she just threatened Holland not to post the picture too soon…
Appreciating Beauty
As two of the most iconic superheroes in the Marvel Cinematic Universe, Robert Downey Jr. and Chris Evans are used to commanding attention on screen. But in a behind-the-scenes photo that surfaced from the set of The Avengers (2012), all eyes are on Evans.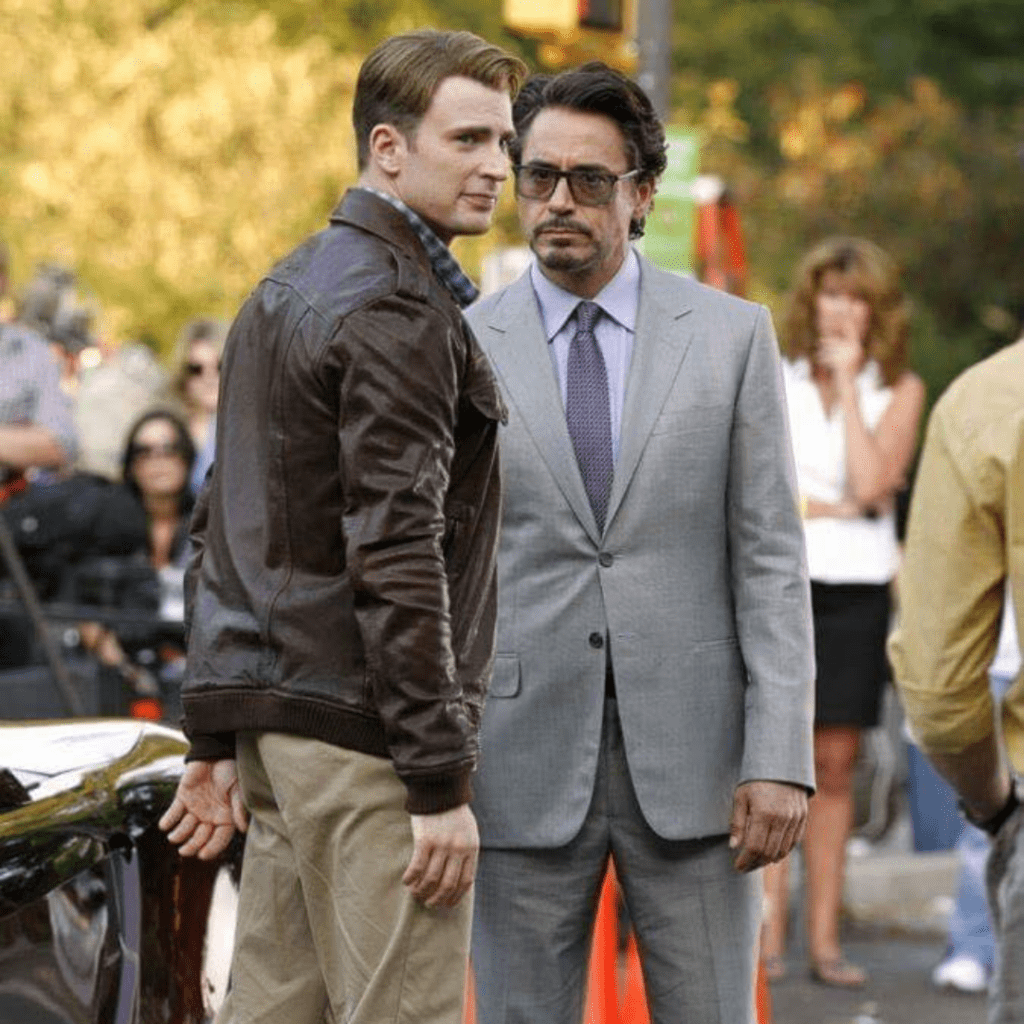 Downey Jr. seems to be staring at Evans with a look of admiration and awe on his face. This picture was probably taken mid-scene, but we can't help but imagine this shot out of context. Between Evan's smirk and Downey Jr.'s stare, this photo is the perfect "write a caption" picture.
Breaking The Rules
During the filming of Avengers: Endgame, the cast and crew were sworn to secrecy. There were no phones on set, and pictures were forbidden… not that it stopped rulebreakers like Chris Pratt, who snuck his phone on set and took a video of the crew in between takes.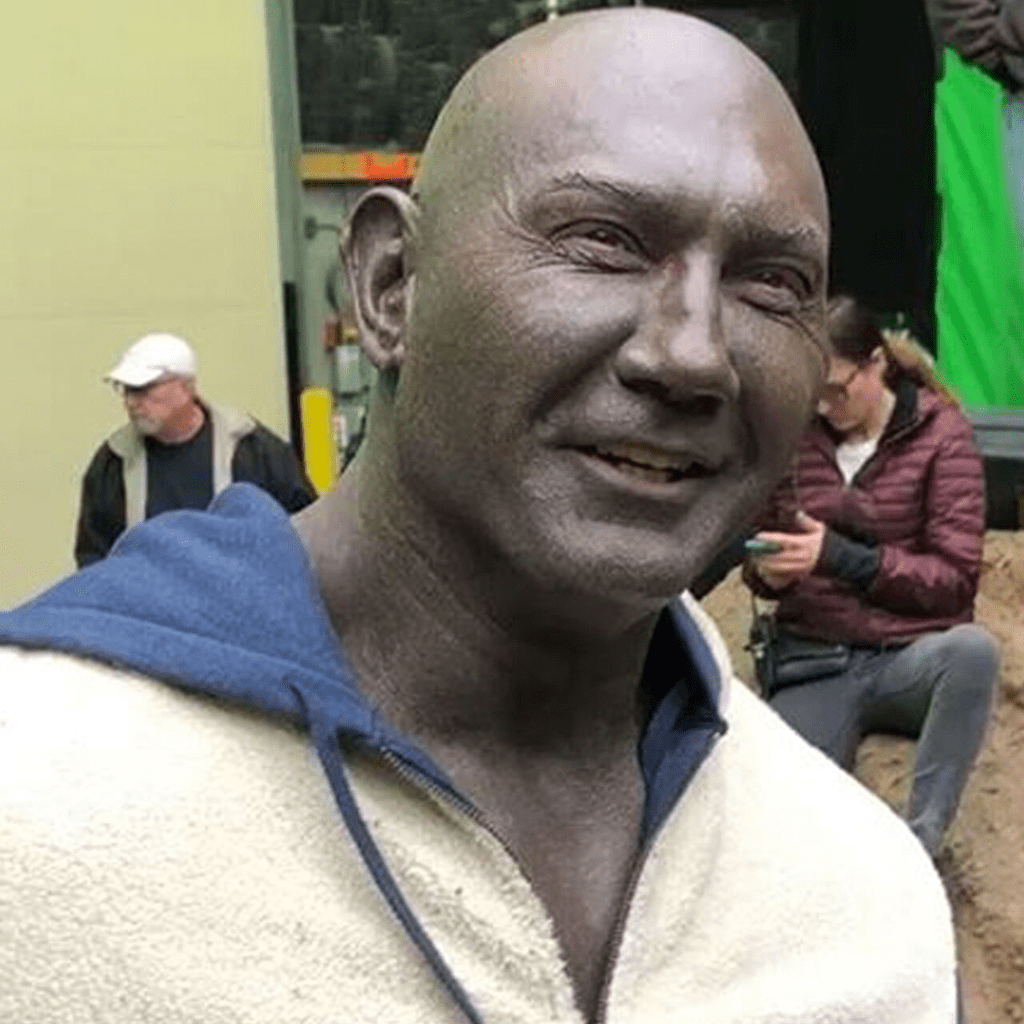 Not that his coworkers ratted him out. In the video, which was posted post-Endgame, some of the actors are seen smiling at Pratt. For example, Dave Bautista beamed at the camera, clearly happy to be among his Marvel co-stars, filming one of the most anticipated movies of the 21st century to date.
Voice Behind The Masterpiece
One of the most beloved characters in the Marvel Cinematic Universe is Groot, the lovable tree creature with a five-word vocabulary. Although he doesn't really say much, Marvel made sure to cast a pro to voice the lovable Flora colossus.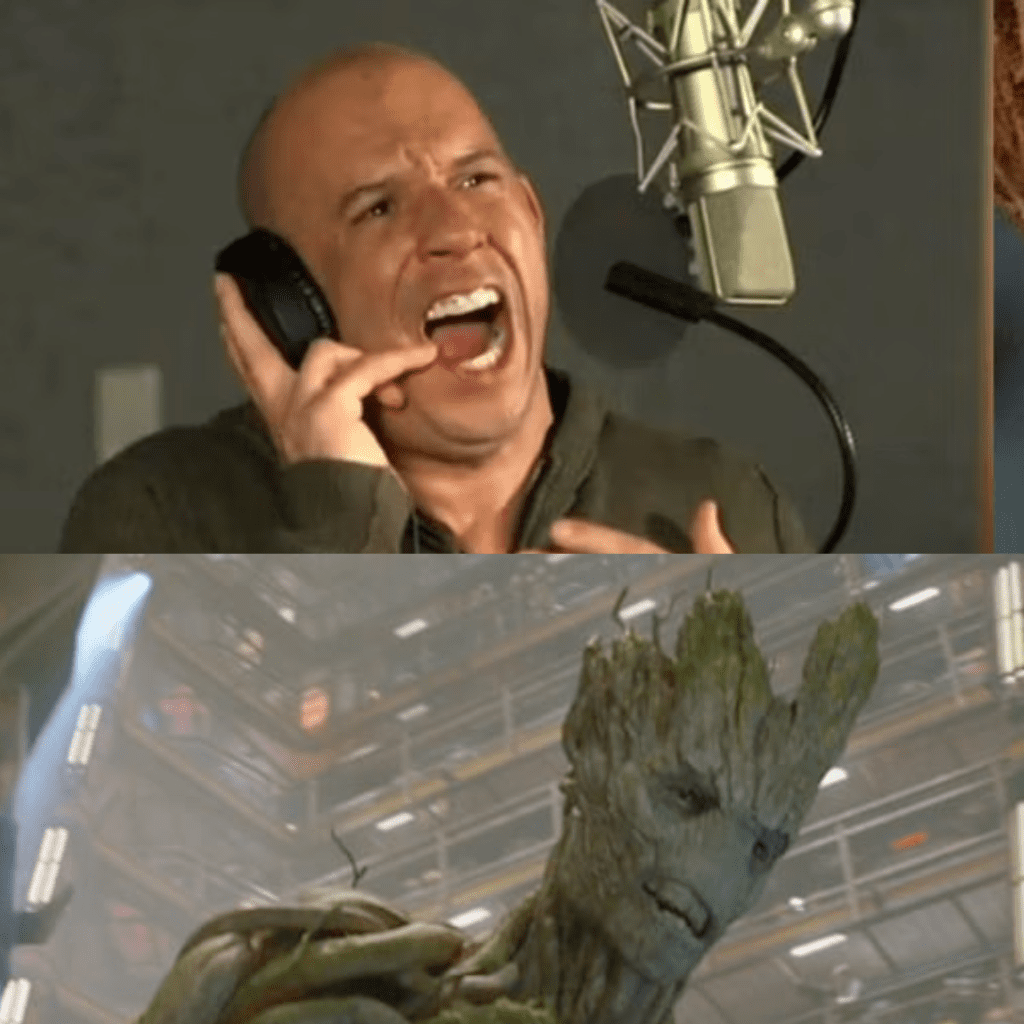 The voice behind Groot is none other than Vin Diesel, the actor best known for his tough-guy roles in films like The Fast and the Furious franchise. Not only did he put his heart and soul into Groot, but the actor lent his voice to Groot for 14 language dubs!
Always in Character
In this sweet behind-the-scenes photo from the set of Avengers: Endgame, some of the film's stars are seen enjoying a casual lunch together. But not everyone was able to relax and take off their makeup, namely actresses Zoë Saldaña, Karen Gillan, and Pom Klementieff.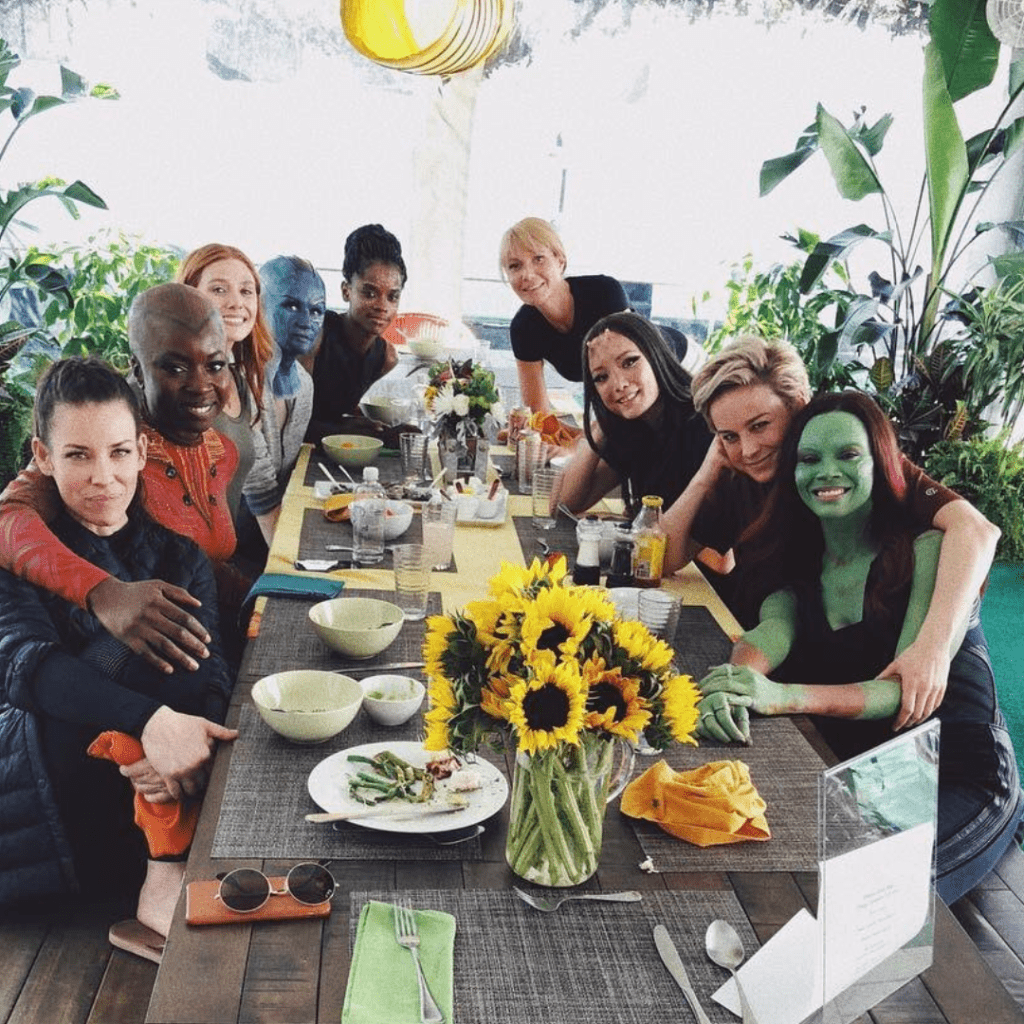 It's not uncommon for actors to have to keep their makeup on for extended periods of time. But seeing these actors still decked out in their superhero gear in their downtime is a reminder of just how committed they are to bringing these characters to life on the big screen.
Heartfelt Goodbyes
Avengers: Endgame was one of the biggest movies of 2019, with a star-studded cast that included Mark Ruffalo and Robert Downey Jr. As the filming for the final scenes of the movie drew to a close, something special happened between the two actors that wasn't included in the final cut of the movie.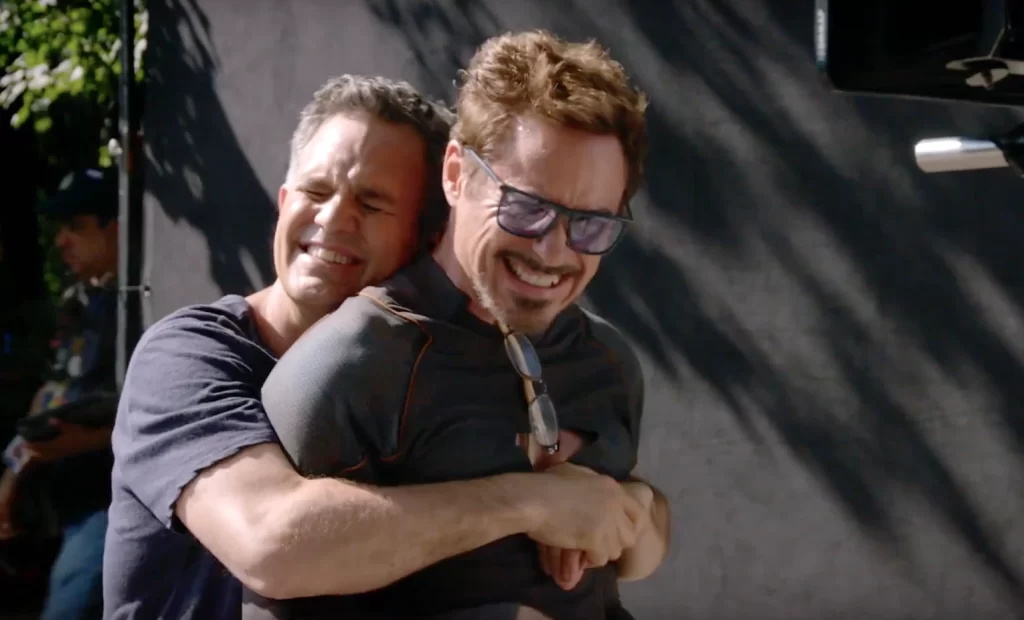 During a break in filming, Mark Ruffalo (Bruce Banner, aka The Hulk) approached Robert Downey Jr. (Tony Stark, aka Iron Man) and gave him a heartfelt hug. This moment was caught on camera by one of the crew members, and the picture quickly went viral on social media.
One With The Stuntman
In a behind-the-scenes photo from the set of X-Men: Apocalypse, actress Sophie Turner, who played the iconic Jean Grey, is seen posing with a stuntman who helped bring her action-packed scenes to life. The photo captures a lighthearted moment on set.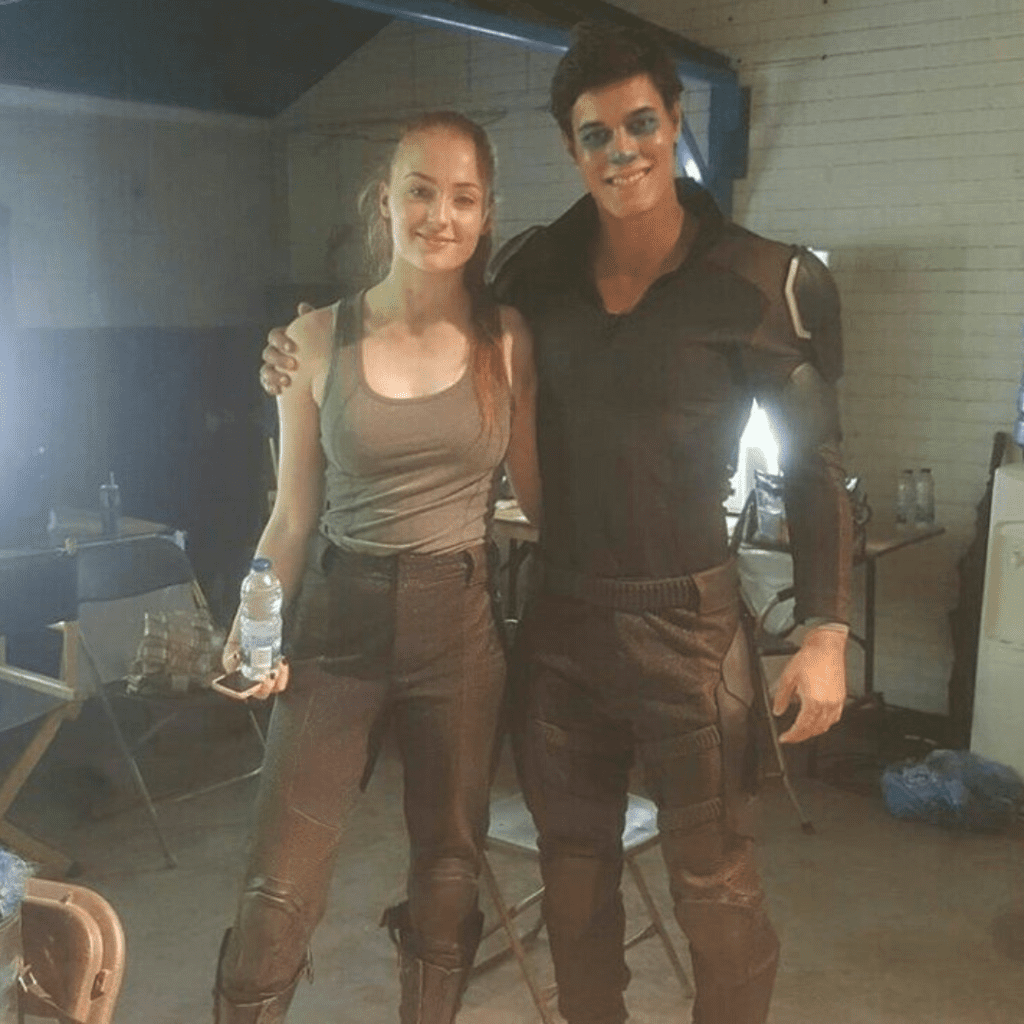 While Turner may have been the face of the character on screen, it's important to remember that it takes a whole team of talented professionals to create the thrilling action sequences that fans love. From the stunt performers to the special effects artists, it's a team effort.
Killmonger's Kills
In a fascinating behind-the-scenes photo from the making of Black Panther, actor Michael B. Jordan is seen getting ready for his role as the menacing villain, Killmonger. But instead of donning a costume, Jordan is hanging out as the makeup team carefully applies the prosthetic dots that represent each of Killmonger's kills.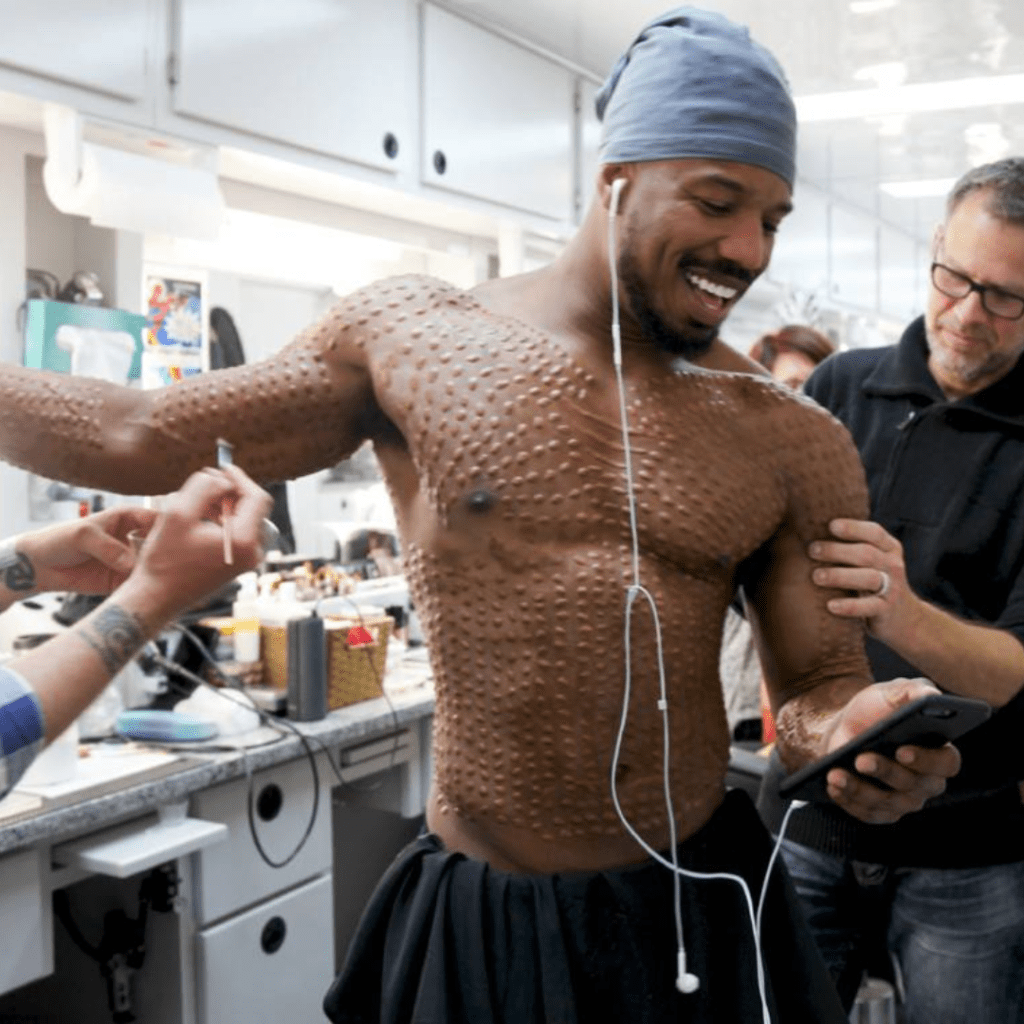 Even something as small as the dots on his skin were carefully planned out. And while the final product may be a thrilling action film, moments like these give us a glimpse into the incredible amount of work that goes into creating a believable and compelling world on screen. 
A Heartwarming Moment
This behind-the-scenes photo from Avengers: Infinity War captures the incredible acting of two actors who played key roles in the film—Thanos and the young Gamora. Josh Brolin, who portrayed the fearsome Thanos, is wearing a special suit, with none of his usual bulk to be seen.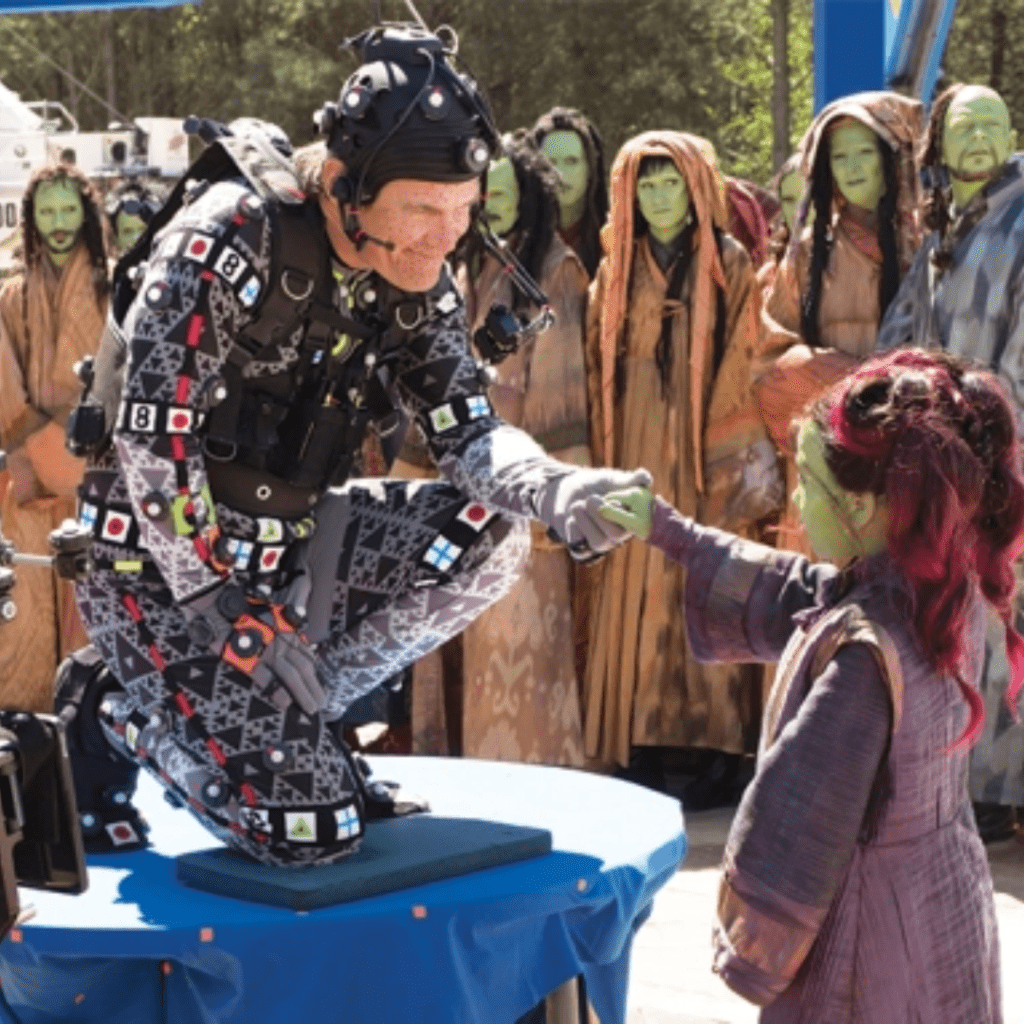 In theaters, fans only see the finished product. Pictures like this are a testament to their professionalism and skill as actors that they were able to create such powerful performances, despite the added challenge of working with CGI characters and effects.
Creepy Mask
The world of filmmaking can often involve some strange and unexpected challenges, as actor Mark Ruffalo can attest to. While filming Thor: Ragnarok, Ruffalo had to don a somewhat creepy-looking mask covered in motion-capture dots, which allowed the special effects team to map the movements of his face…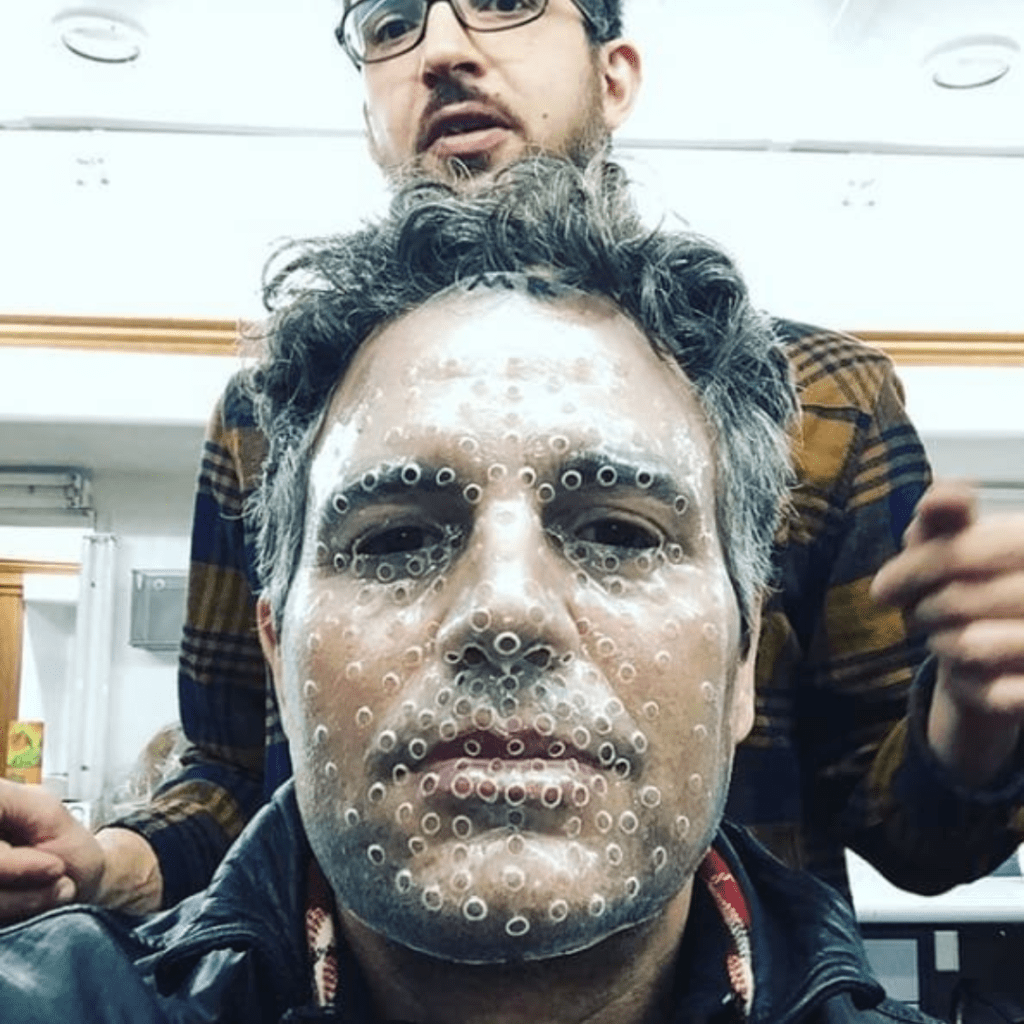 This helped them create the CGI version of the Hulk. In behind-the-scenes footage from the film, Ruffalo can be seen wearing the mask, which covers his entire face. The mask is covered in small, reflective dots, which the motion-capture cameras use to track his facial expressions and movements.
The Final Sacrifice
Tony's final moments in Avengers: Endgame were some of the most emotional and impactful in the history of the Marvel Cinematic Universe. Robert Downey Jr.'s character, Tony Stark, sacrificed himself to save the universe by using the Infinity Stones to snap Thanos and his army out of existence.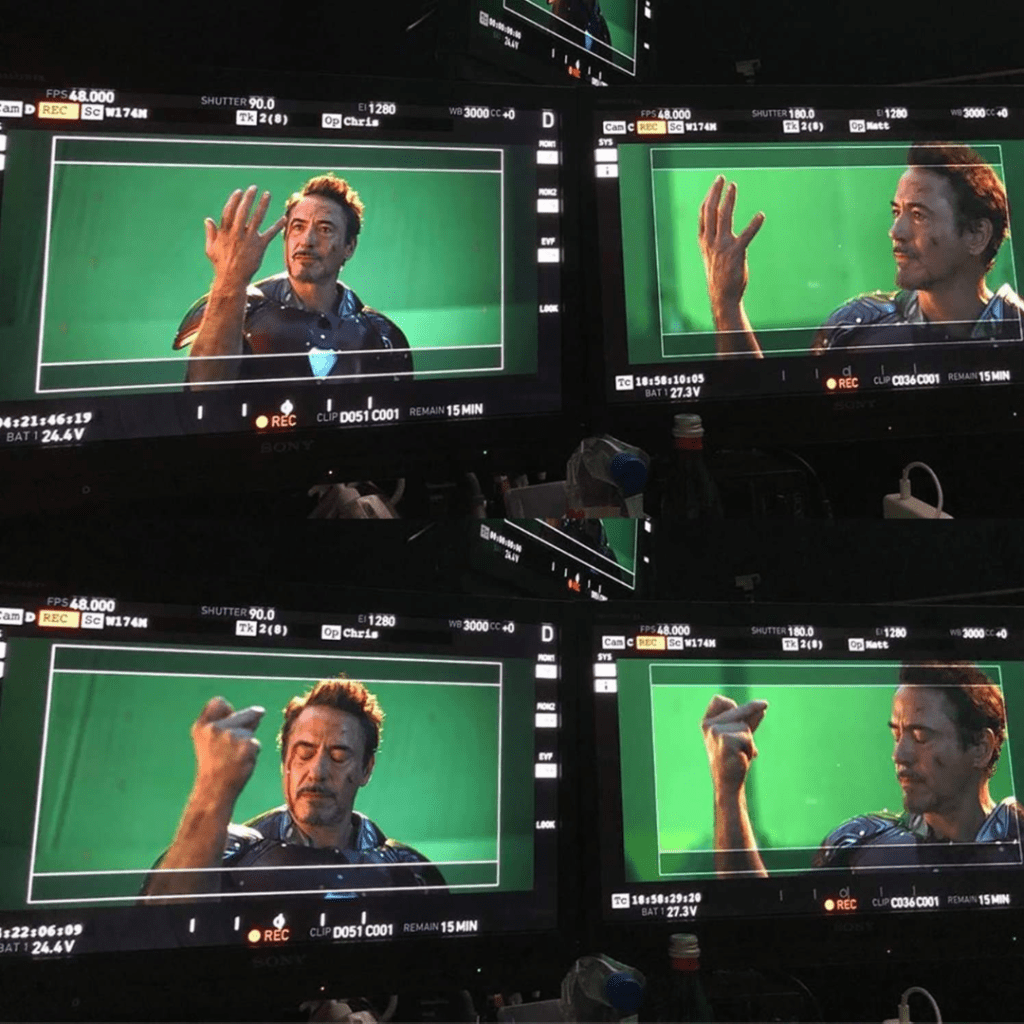 But while the scene was a stunning piece of cinema, the behind-the-scenes shots of the heartbreaking scene are almost comical when you see it without the scenery and shiny gauntlet. Of course, Downey Jr.'s acting still makes us cry, even if it's just him on a green screen.
Yondu The Sweetheart
Yondu is known for his tough exterior and gruff demeanor. But behind the scenes, actor Michael Rooker, the man who played the Centaurian space pirate, had a softer side. On the set of Guardians of the Galaxy, he took a moment for some lovin' from a small dog.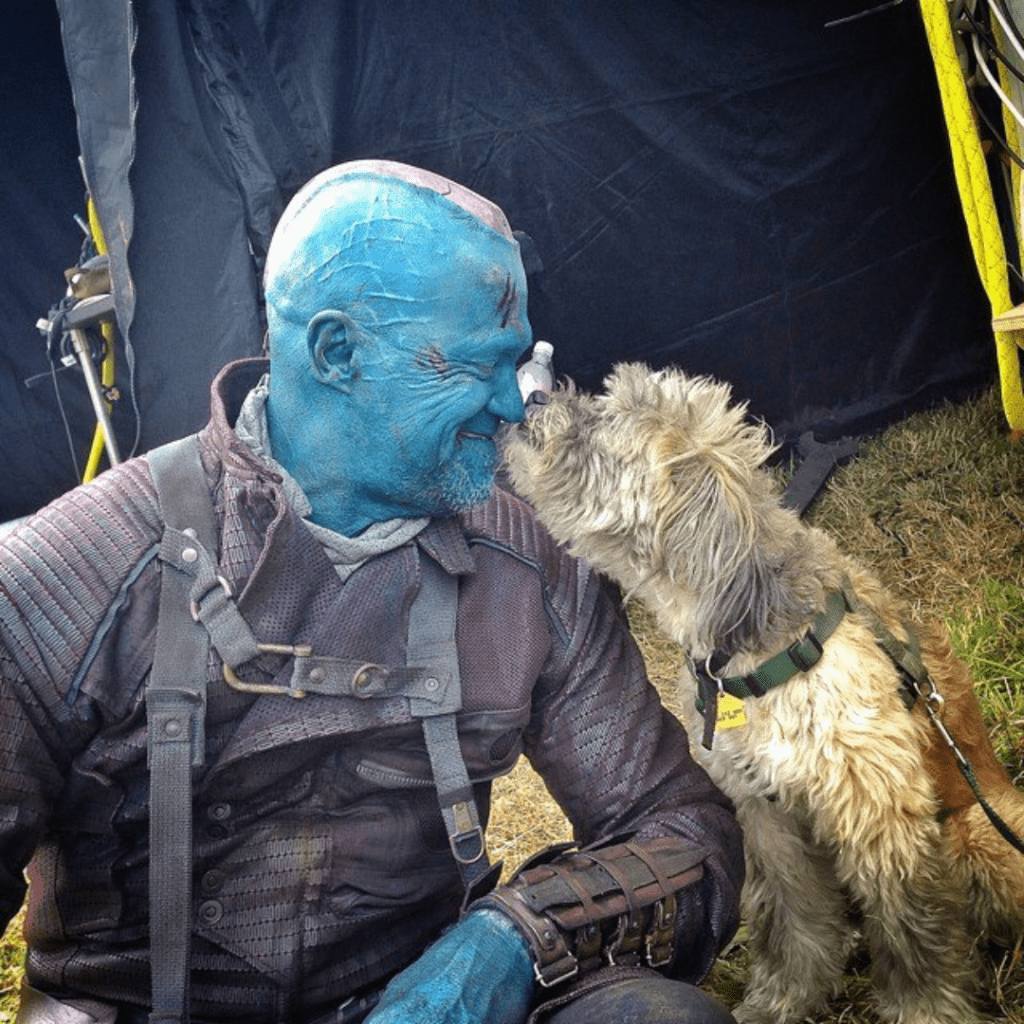 Despite his tough-guy persona, Rooker himself is clearly a big softie when it comes to furry friends. The image of Yondu snuggling up to the dog is a heartwarming reminder that even the toughest characters can have a soft spot. 
On Set Goofiness
When it comes to comedians in the guise of actors, it's hard to top the irreverent humor of Ryan Reynolds. Casting made the right choice when he was selected to play the smart-mouthed Deadpool. And it seems like his co-stars have a great sense of humor, too.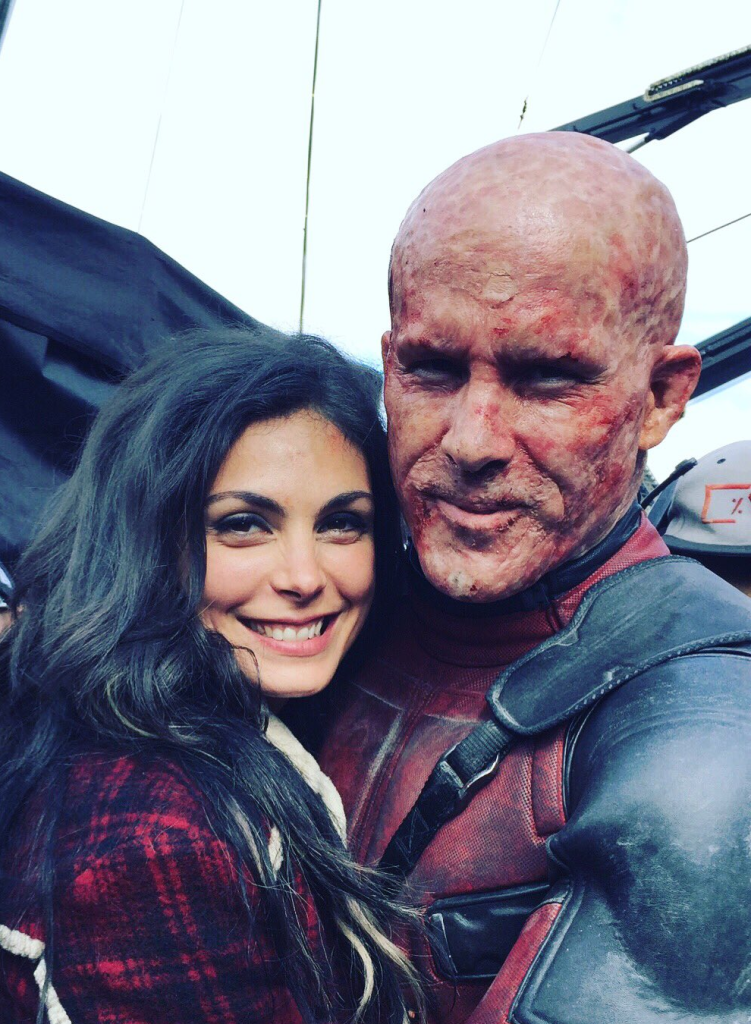 Actress Morena Baccarin, who plays Vanessa, shared some goofy selfies she took with Ryan Reynolds. She Tweeted this sweet picture, but what really gets us is the caption: Break a leg tonight pizza face. Given Reynolds' reputation as a jokester, we can't help but wonder whose idea it was to write that.
Old Captain America
One of the most emotional moments in Avengers: Endgame was seeing Captain America pass on his iconic shield to Sam Wilson, signaling the end of an era for the beloved character. But perhaps just as moving was seeing Steve Rogers in his old age, finally having lived the life he always wanted.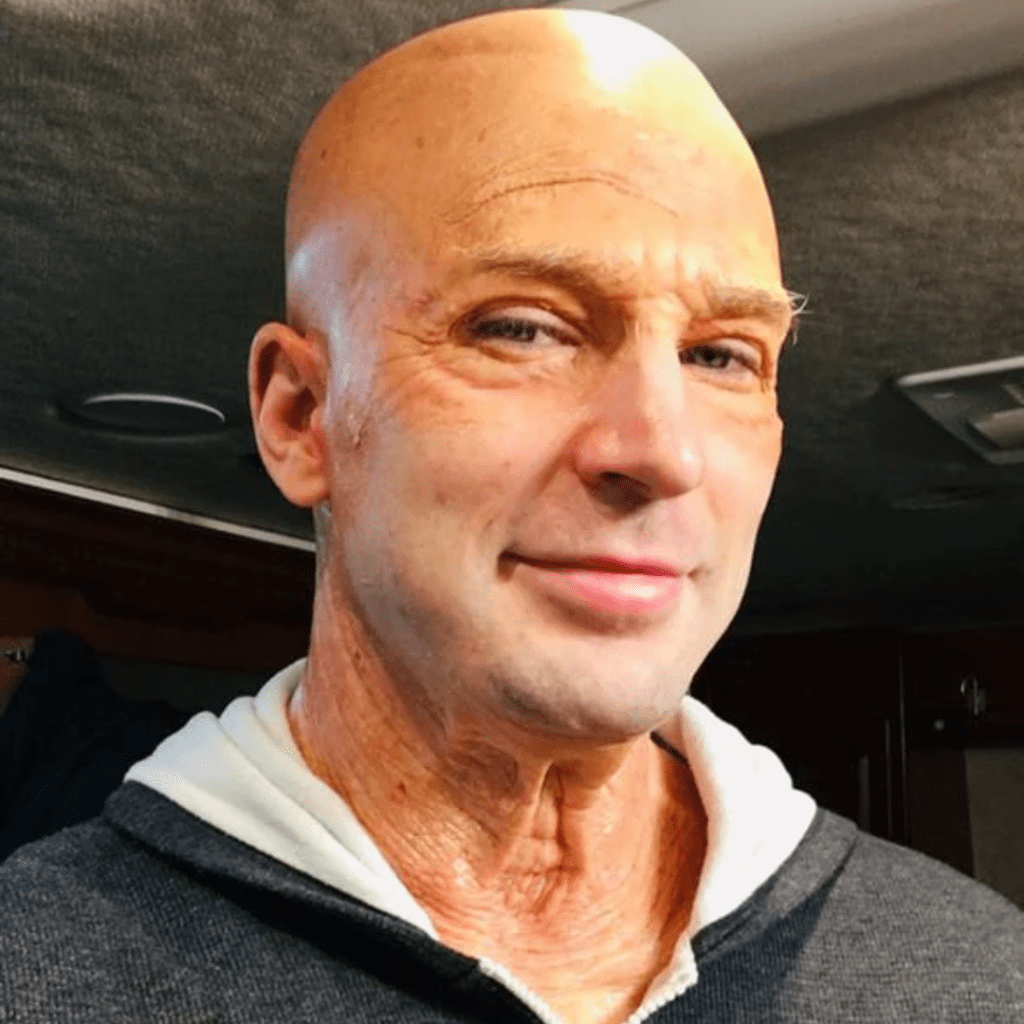 A behind-the-scenes photo from the film's production shows Chris Evans in his Old Man Captain America costume, grinning slyly and wearing some serious age makeup. Despite the heavy emotional weight of the scene, Evans appears to be in good spirits.
Selfie Time
During the filming of Avengers: Endgame, the set was full of excitement, laughter, and a whole lot of talent. A behind-the-scenes photo captures a moment of pure joy as Robert Downey Jr. takes a selfie with some of his fellow cast members.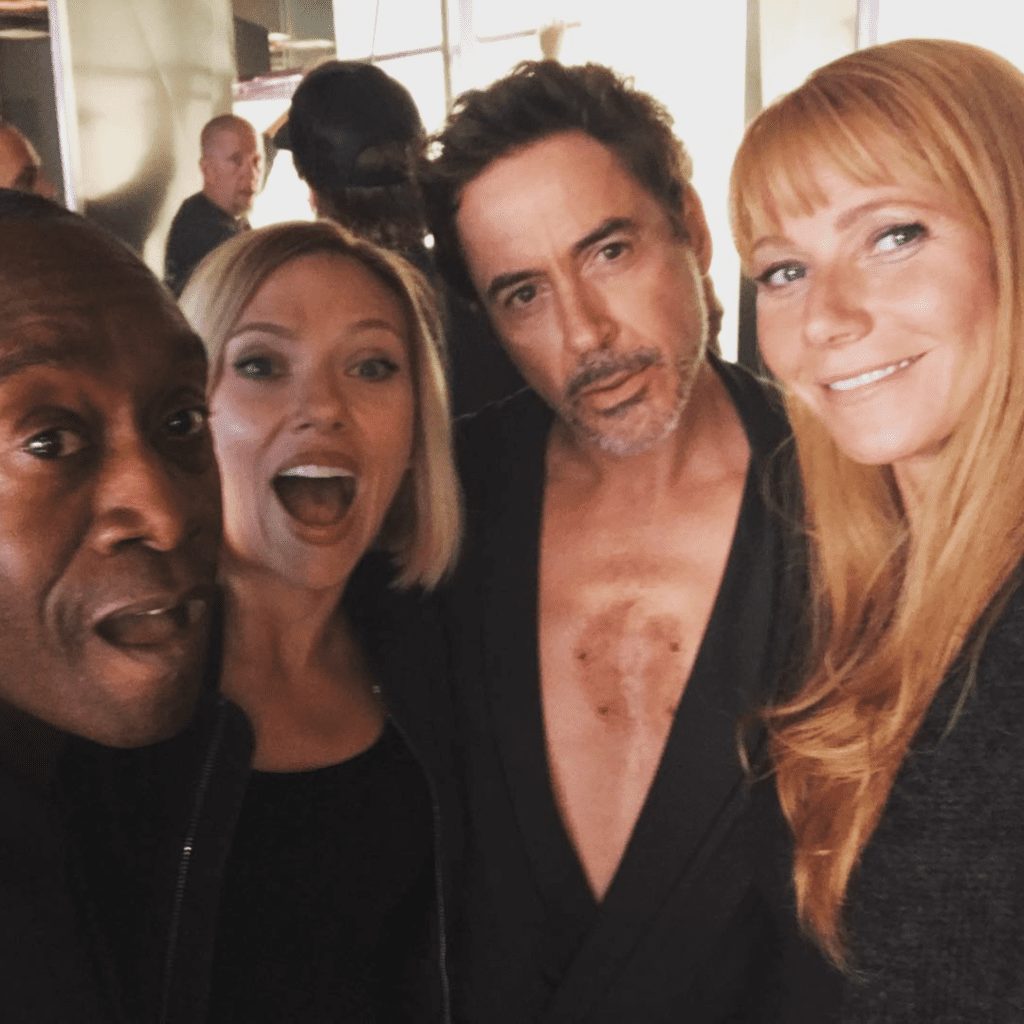 Whether it's Downey Jr.'s signature wit and charm, Johansson's fierce intensity, or Cheadle's effortless cool, there's no denying that this group brought their A-game to every scene. This selfie serves as a fun and lighthearted reminder of the magic that went into creating one of the most epic and beloved films of all time.
The Nebula Gear
Oh boy, have we got a photo for you! It's a shot of Karen Gillan putting on her Nebula gear, and let us tell you, it's a sight to behold. Here he is in the midst of getting into character with a look of fierce determination on her face.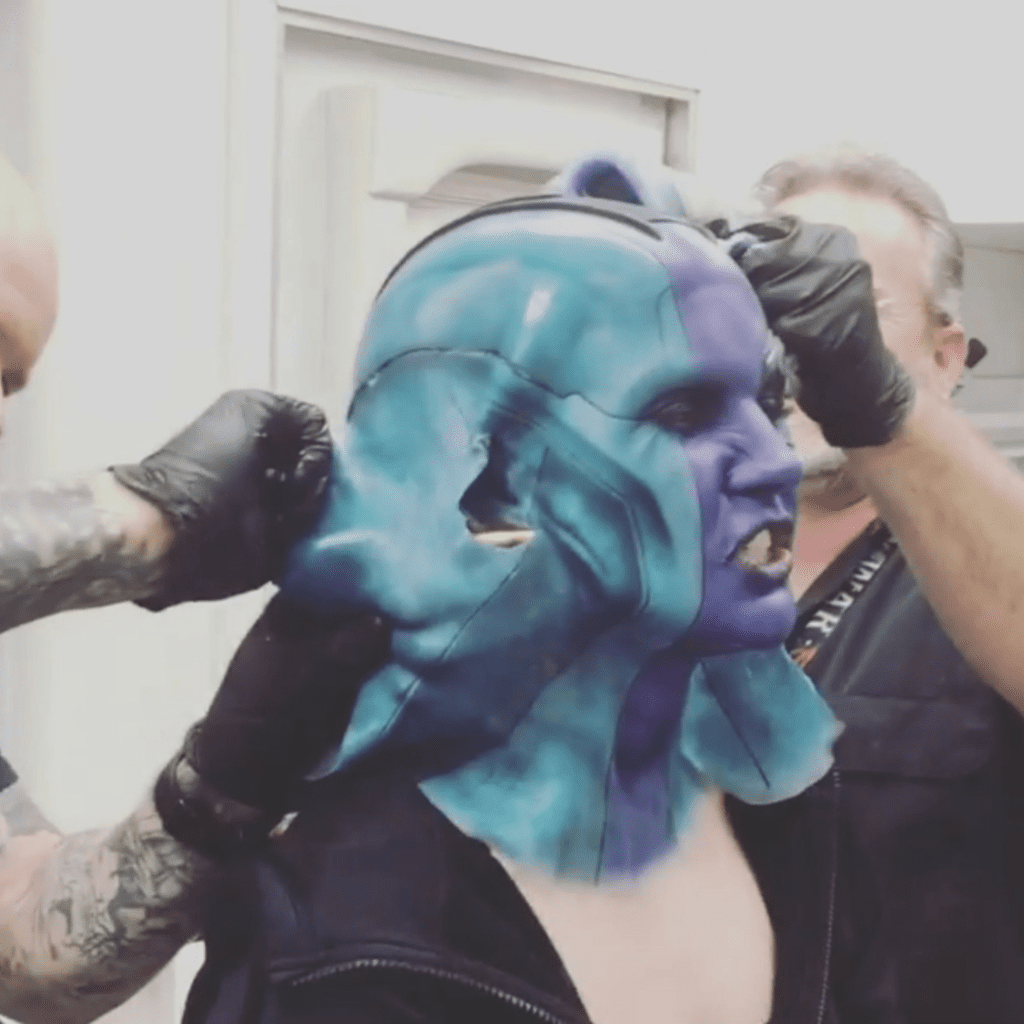 It's clear that transforming into Nebula takes some serious effort, but Gillan takes it all in stride like a total pro. The amount of attention to detail is insane, from the perfectly placed prosthetic pieces to the intricately applied makeup that turns her into a blue-skinned space assassin.
A Satisfying Back Scratch
It's always fun to see behind-the-scene glimpses of our favorite movies, especially when they involve the actors goofing around on set. And this photo of Rila Fukushima and Hugh Jackman is no exception! In The Wolverine, the two actors had great chemistry, and it's clear that they also had a lot of fun together off-screen, too.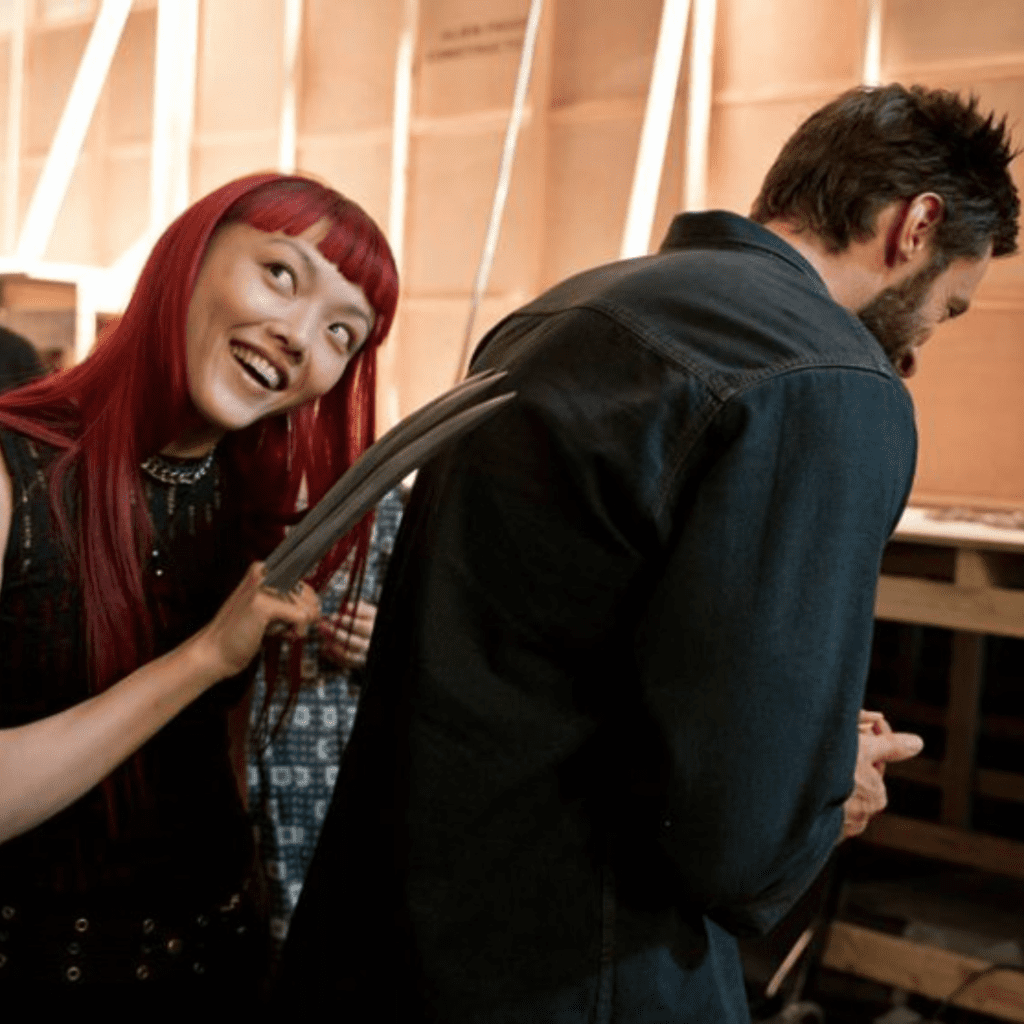 Rila's character, Yukio, was a fierce warrior who became a trusted ally of Wolverine, and her martial arts skills were on full display in the film. So, it's no surprise that she would also be a pro at wielding the Wolverine claws, even if it was just for a playful back scratch. 
Sun Shields
While hanging around on the set of Avengers: Infinity War, Chris Hemsworth (aka Thor) and Chris Evans (aka Captain America) geared up for a sunny day on set: with umbrellas. We guess even superheroes need to stay protected from harmful UV rays.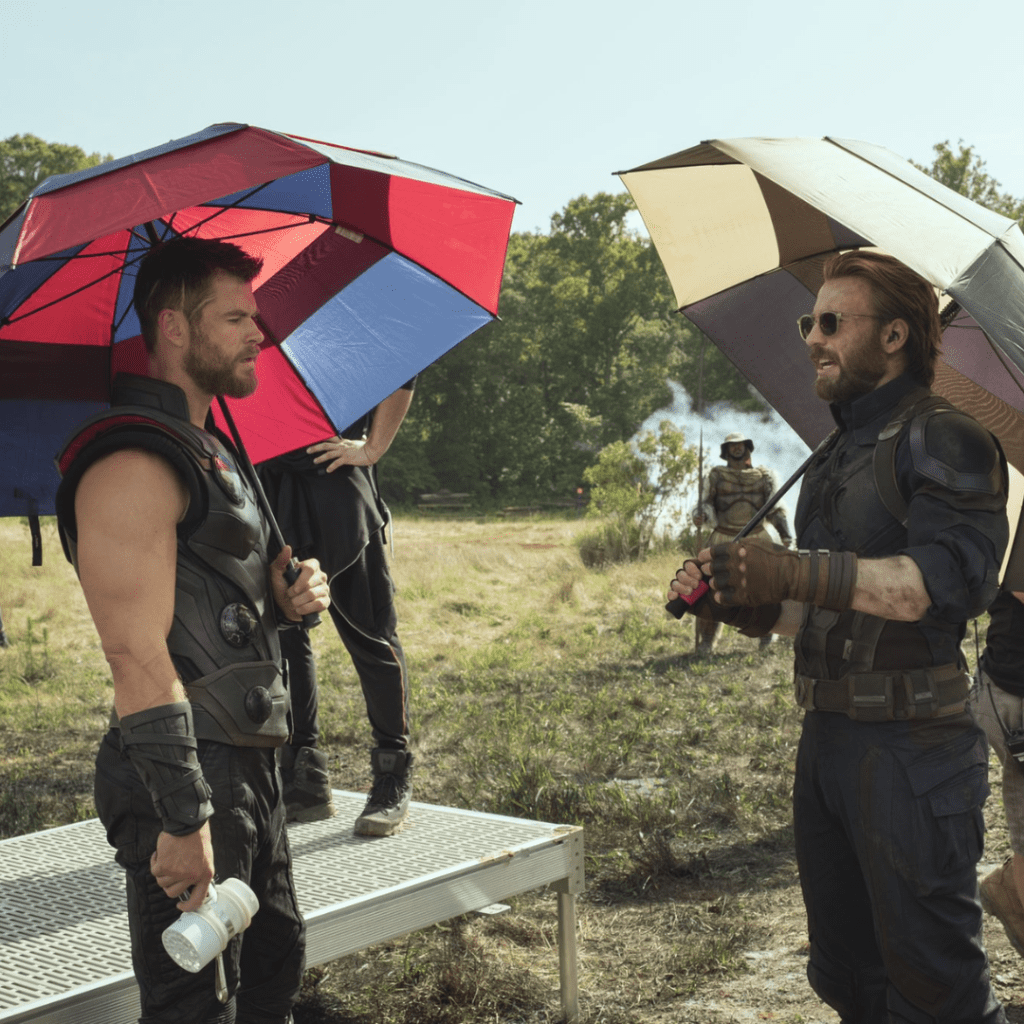 They look like they're ready for a picnic rather than an epic battle against Thanos. We hope it's not just a coincidence that their umbrellas match their outfits. And what's that in Thor's hand? It seems like he traded in his trusty Stormbreaker for a PVC salt shaker.
Extra Vision For Vision
Oh, it seems like even superheroes have to do some paperwork every now and then! And what better way to do it than in style, just like Paul Bettany did on the set of the Avengers movies, while wearing his Vision costume and some snazzy glasses?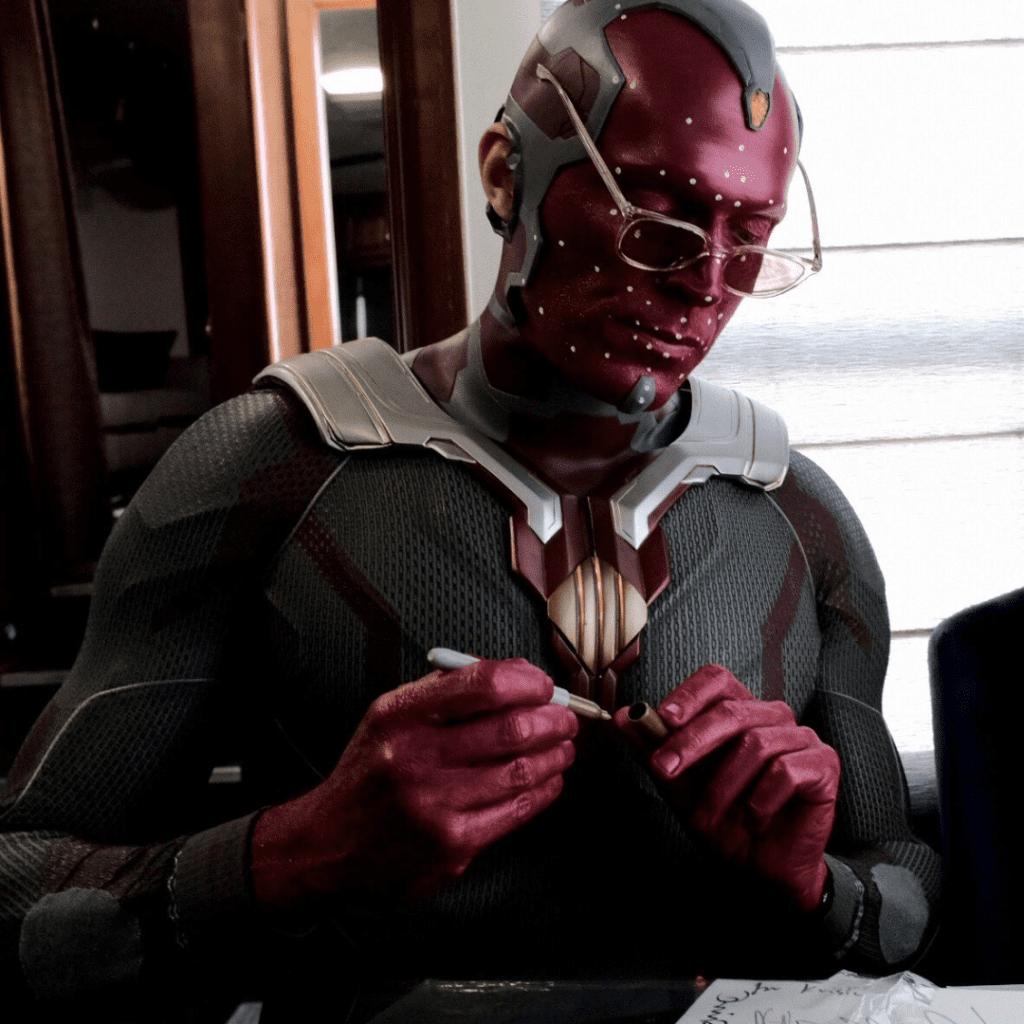 Luckily, Mark Ruffalo was there to capture the moment and share it with the world, proving that even the most powerful beings in the universe need to take care of some "mundane" tasks from time to time. Oh what we wouldn't give to call "signing autographs" ordinary tasks, too.
The Legend
Excelsior! Marvel fans, brace yourselves for a blast from the past! We have an exclusive behind-the-scenes snapshot of none other than the legendary Stan Lee on the set of Thor: Ragnarok. In the photo, the comic book icon is seen taking a break from his busy schedule.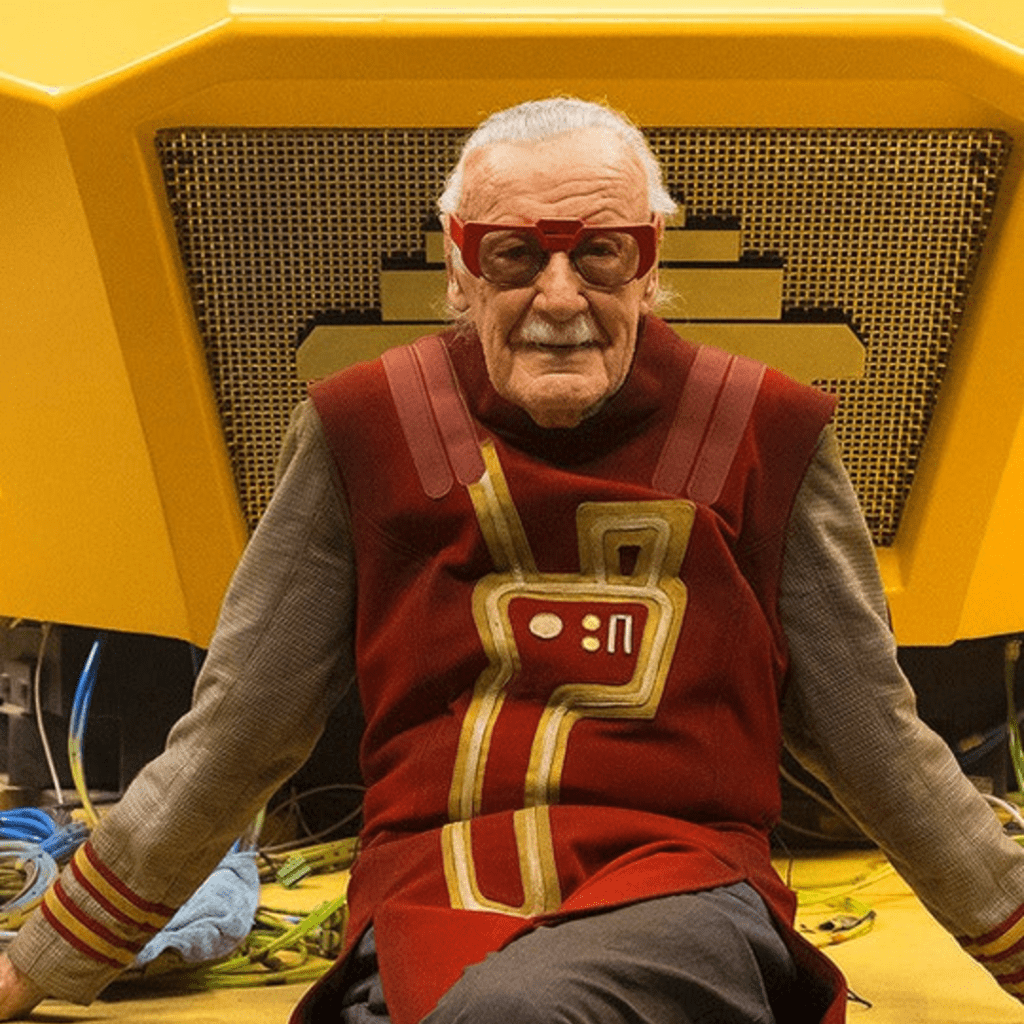 Stan Lee looks every bit the superhero himself! From co-creating some of the most iconic characters in comic book history to cameoing in Marvel movies, he truly is the gift that keeps on giving. And this backstage shot is just further proof that he was an essential part of the MCU.
The Face of Intimidation
While filming Avengers: Infinity War, Josh Brolin had a special buddy with him—Thanos' giant, creepy head! No, this wasn't some weird obsession. It was for the sake of filming. It was done in order to make the scenes with Thanos more realistic.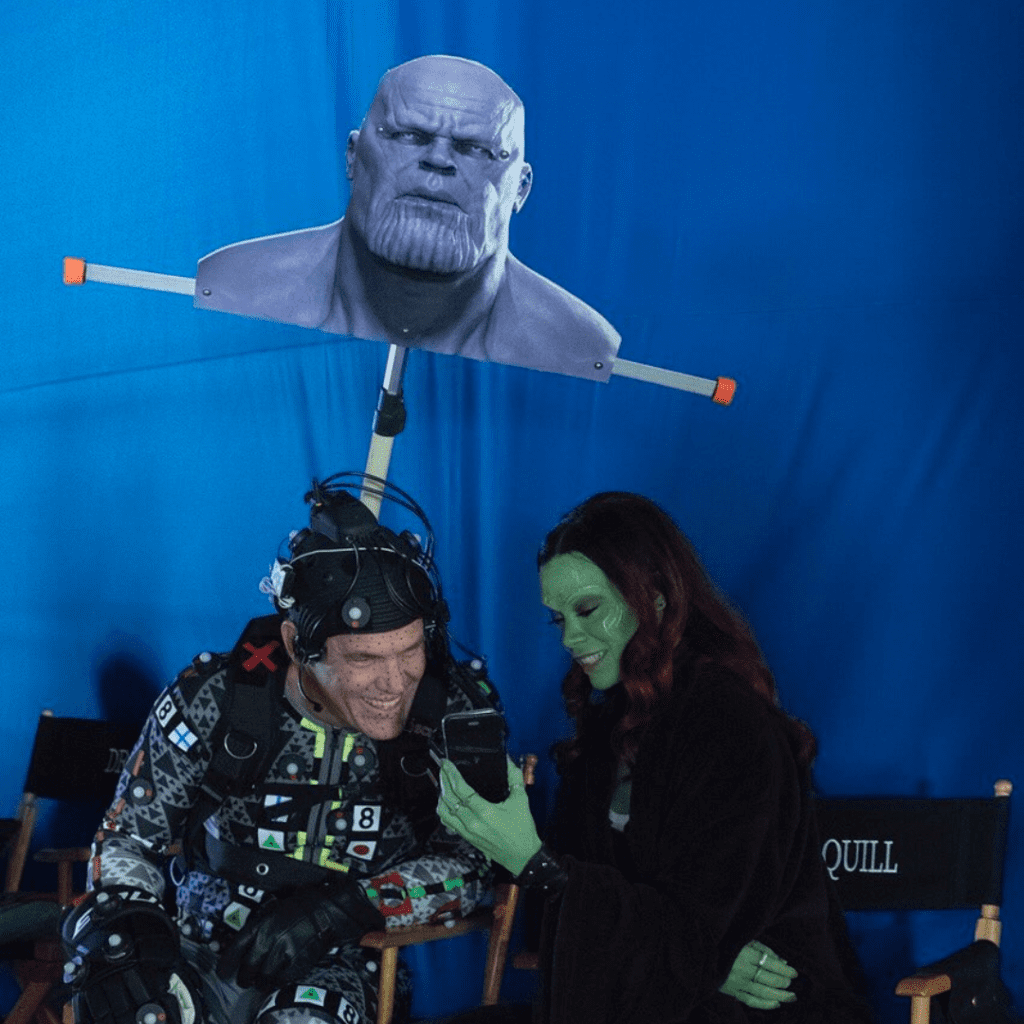 It gave the special effects team needed a point of reference to use for his head placement and movement, and the actors knew where to look to make it more believable. What we can't get over, though, is Brolin's bright smile as Saldana shares something on her phone with him.
Two Gamoras
Taken on the set of Avengers: Infinity War, Zoe Saldana, who plays Gamora, strikes a pose with her younger self, played by child actor Ariana Greenblatt. Given that they play the same character, it's unclear which Gamora is meant to sit in the chair.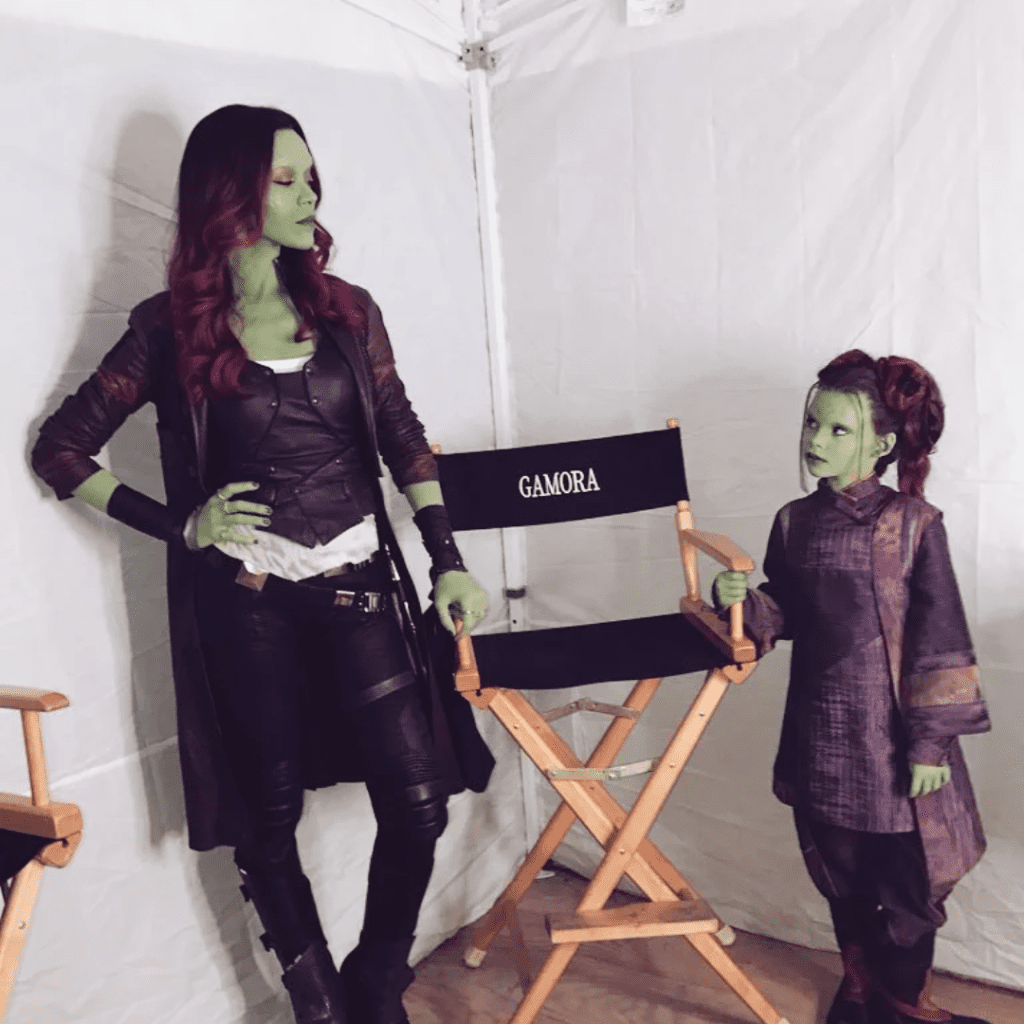 With her signature green skin and sleek black outfit, Zoe Saldana looks fierce as ever, while young Ariana Greenblatt smiles brightly in her Gamora costume. The contrast between the two is both striking and heartwarming, reminding us of the journey that brought Gamora to where she is now in the MCU.
No Powers Without CGI
Scarlet Witch is undoubtedly one of the most powerful and stunning characters in the Marvel Cinematic Universe. Her powers have grown since we first met her in The Winter Soldier. The CGI effects bring her magic to life in a way that makes audiences feel like they are right there with her.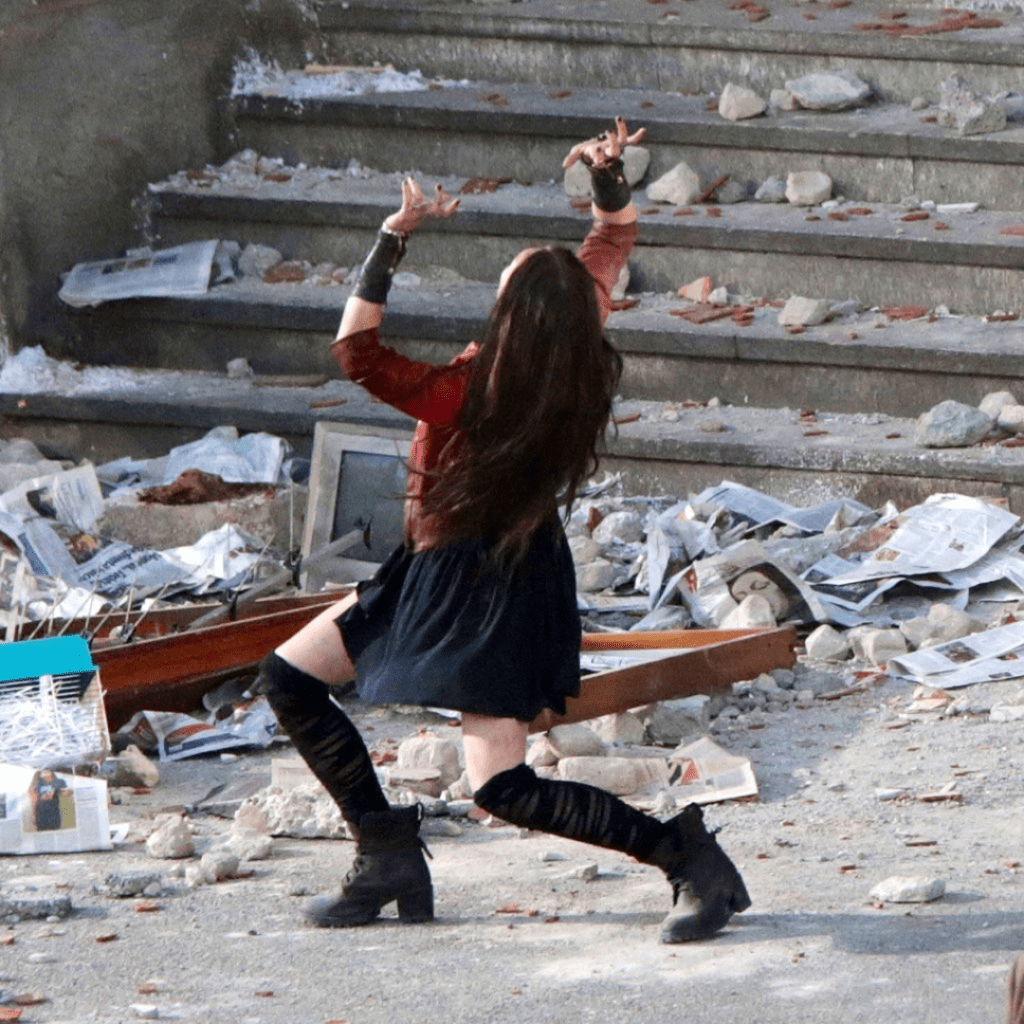 However, without the CGI, it's a very different case. Elizabeth Olsen, who plays Scarlet Witch, has her hands at the ready, already working her magic. However, here, she looks like she's doing a bizarre interpretive dance rather than wielding magical powers.
Wielding Chopsticks
Who needs a fork when you have Thor-ksticks? Chris Hemsworth was caught on set chowing down on a delicious meal in between takes. The Australian actor, known for his portrayal of the god of thunder, was clearly not afraid to show off his dexterity as he navigated his meal with ease.
Despite being a powerful superhero, Hemsworth's chopstick game was surprisingly strong, and he made eating with the utensils look effortless. From wielding Mjolnir to wielding chopsticks, Hemsworth continues to prove that he is a force to be reckoned with both on and off the big screen.
How To Kill Time
Oh, the joys of killing time on a movie set! Jennifer Lawrence, who played the fearless and fierce Mystique in X-Men: Days of Future Past, couldn't resist doing some funny antics in between takes. With her boundless energy and contagious sense of humor, she kept everyone around her entertained.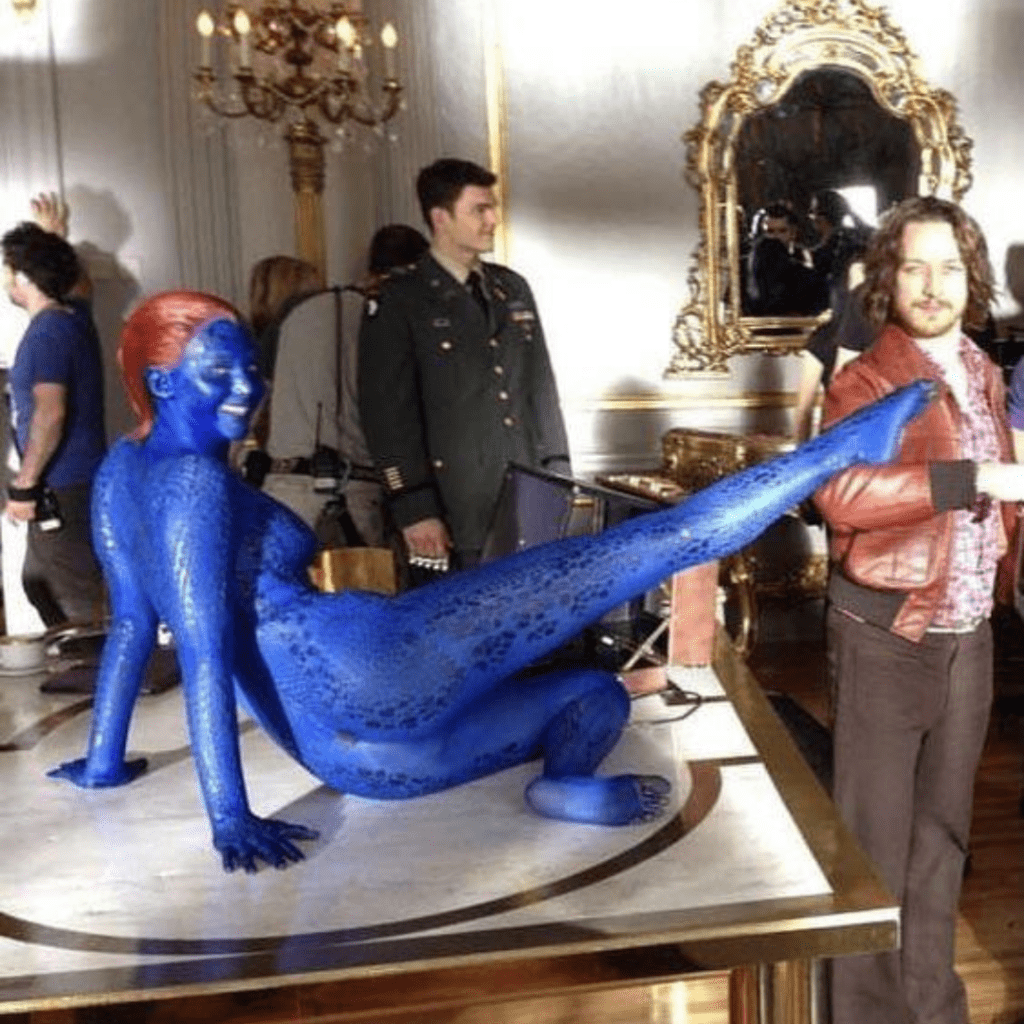 As always, Jennifer's irreverent and spontaneous spirit made her a delight to be around. Even when the cameras weren't rolling, she kept the X-Men set buzzing with laughter and good vibes. Who says movie-making has to be serious all the time? 
Fixing Time
Ever wondered what it takes to keep the surgeon turned sorcerer's cape in tip-top shape? Well, wonder no more! Benedict Cumberbatch was spotted on the set of Doctor Strange getting his cape fixed with a drill, and it's every bit as wacky as it sounds.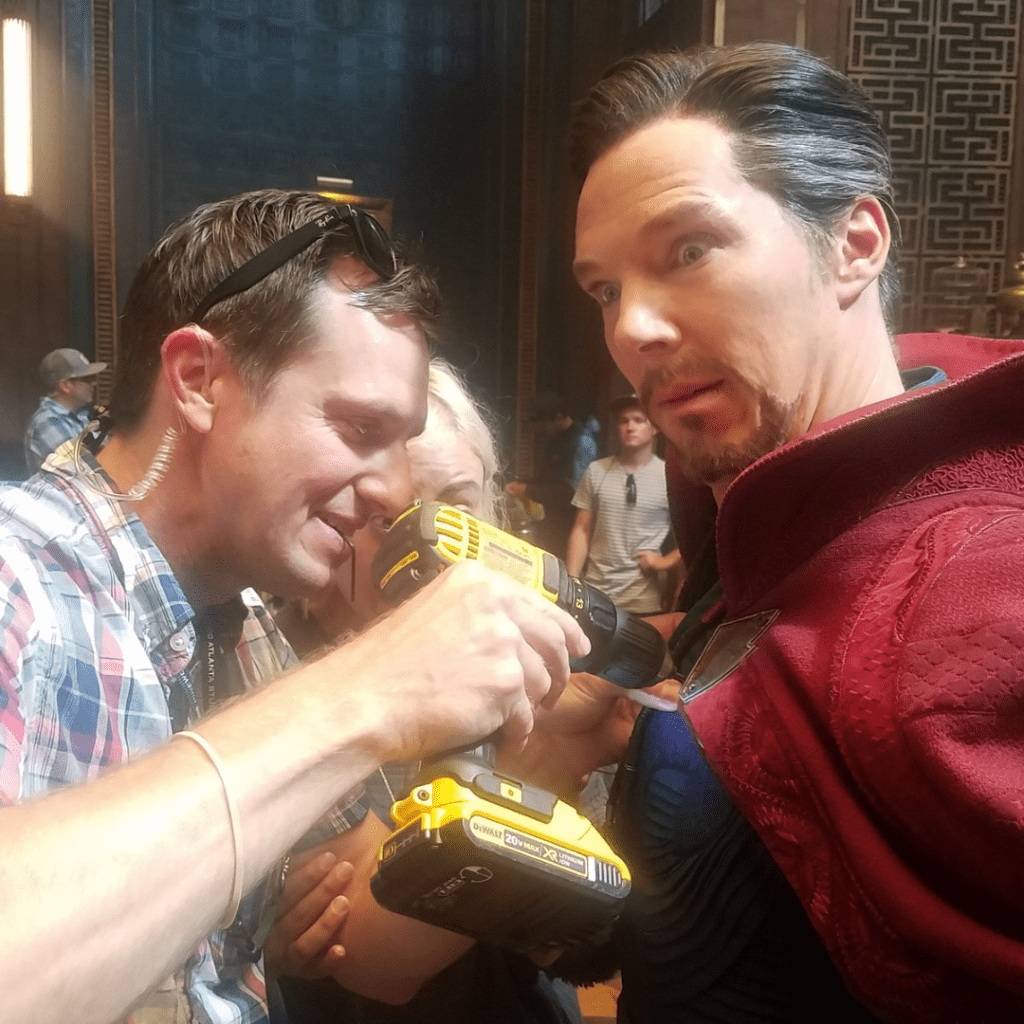 The good doctor may be a master of the mystic arts, but even he can't escape the occasional wardrobe malfunction. Luckily, with a little help from the trusty drill, Benedict was able to get his flowing red cape back in fighting form in no time. 
Fat Thor
Chris Hemsworth is known for his chiseled physique, which made his appearance in Avengers: Endgame all the more shocking. He donned a fat suit for the role, which added some extra bulk, making him look like he had enjoyed a few too many pints of Asgardian ale.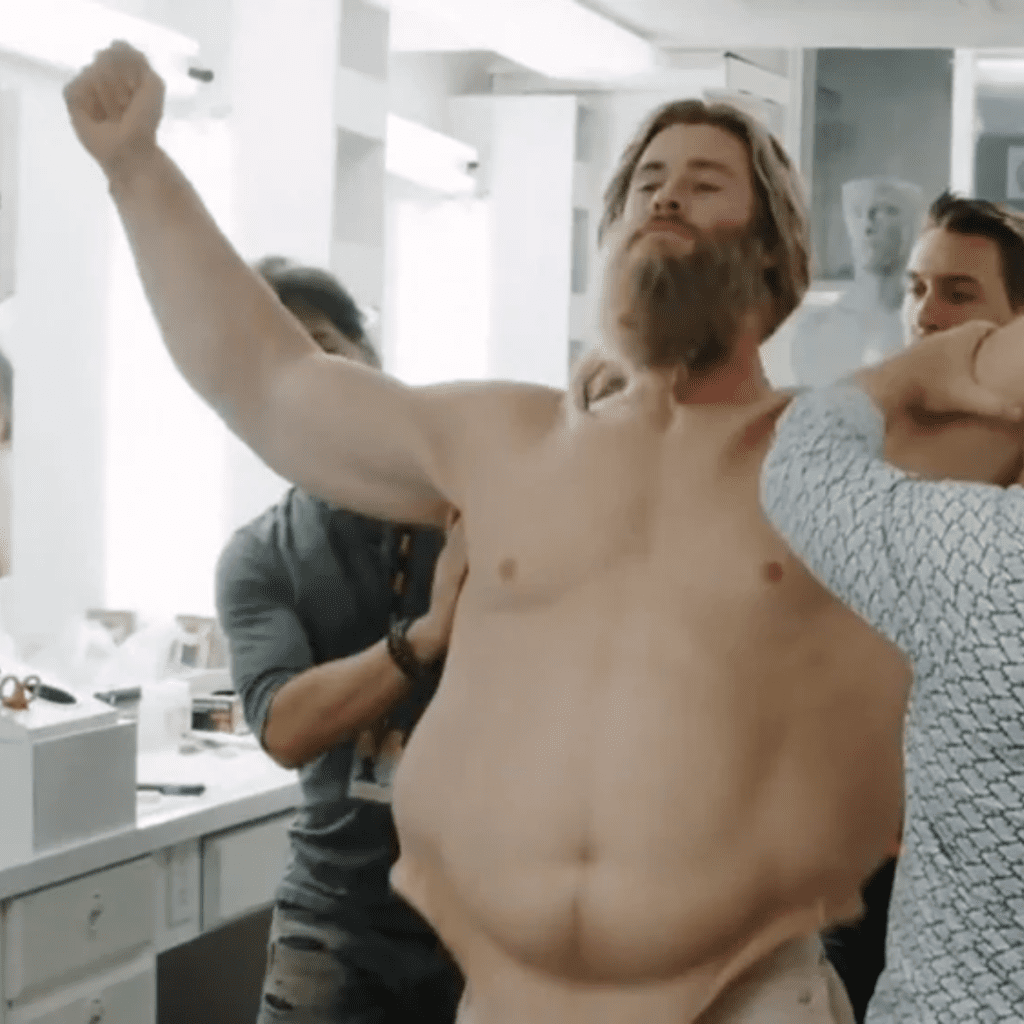 The Big Thor-bowski was both a comical and depressing image. It was hard to see the brave superhero torn down and already drinking like he was in Valhalla. Hemsworth's portrayal of a vulnerable and emotionally raw Thor was a highlight of the film… not that you could tell by his jovial image here.
Such A Relief
On the set of every MCU film, many actors are transformed into their superhero characters with the help of various prosthetics and makeup. For a while, actor Paul Bettany escaped this, as playing JARVIS only required his voice. But Age of Ultron changed that.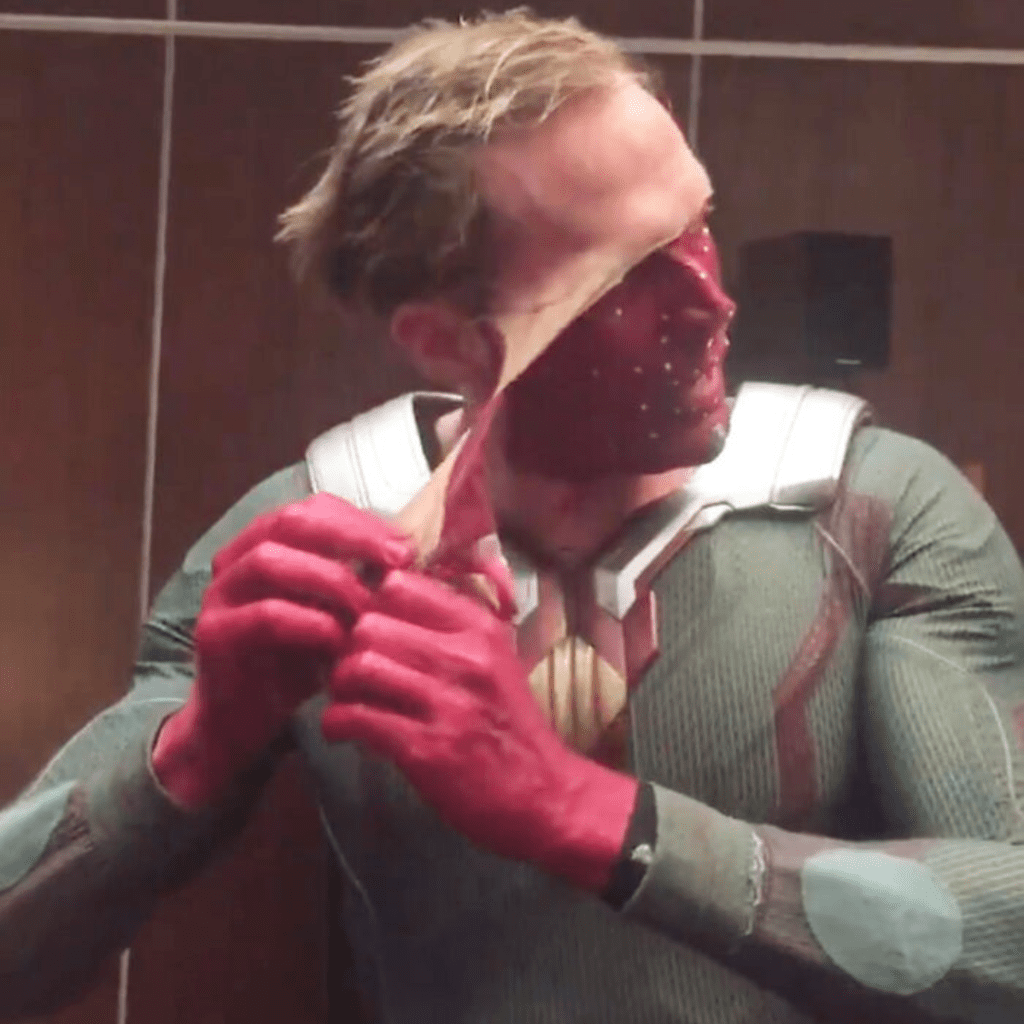 The actor expressed regret at finally having to suit up like the rest of his coworkers. Gone were the days of showing up in sweats and standing in a recording studio. This image of Bettany peeling off his Vision prosthetics really gives us a glimpse into that frustration.
Gamer Superheroes
Breaking news! The Avengers have been caught playing video games on the job! That's right, folks, our favorite superheroes were spotted taking a break from saving the world to indulge in some virtual fun. It seems that Black Widow and Captain America were the culprits this time…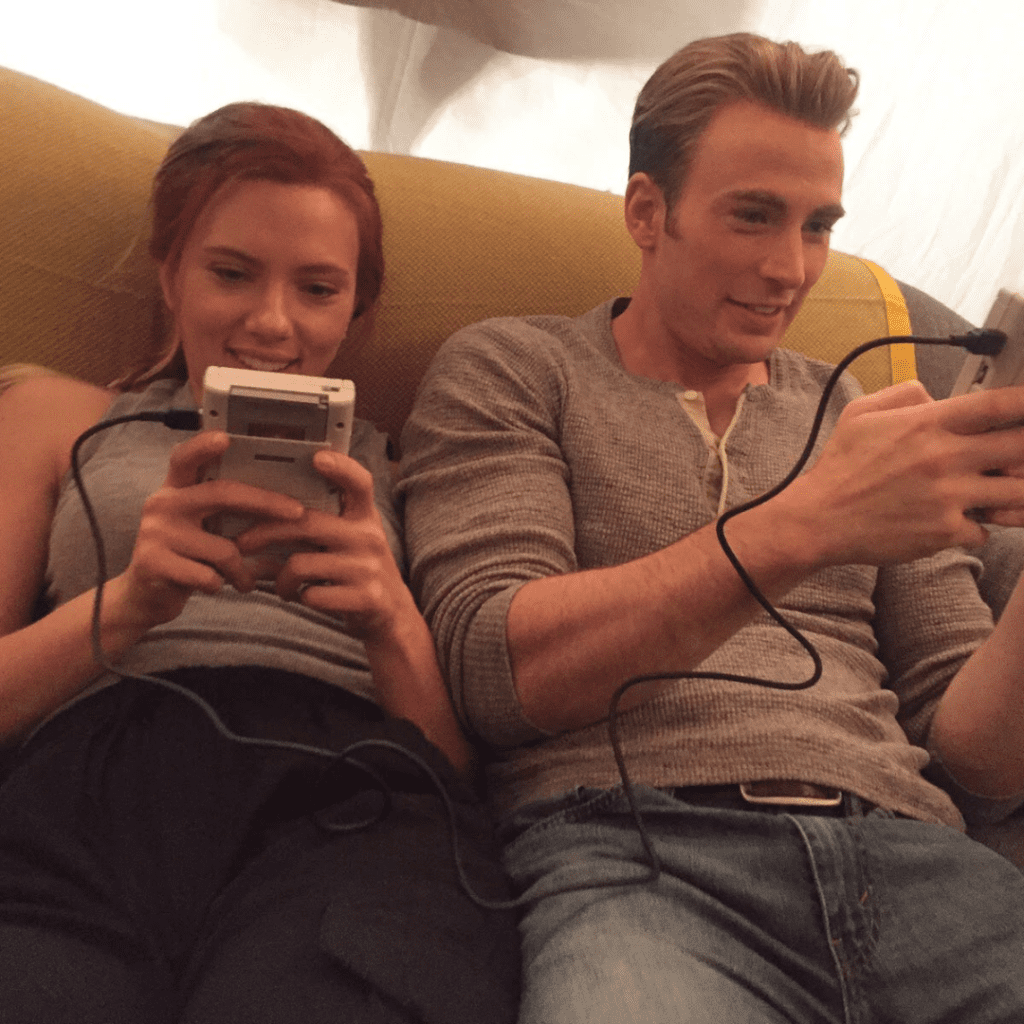 It's unclear what game they were playing, but rumors are circulating that it might have been an intense round of Super Smash Bros. This might be a tactic to bond the team together and keep their morale high in between fights against the forces of evil.
Black Panther And Rocket Raccoon
T'Challa, also known as Black Panther, is known for his strength and agility on the battlefield, but it seems like he has a soft spot for cute little creatures as well. In a behind-the-scenes photo, the king of Wakanda is seen holding a Rocket Raccoon prop.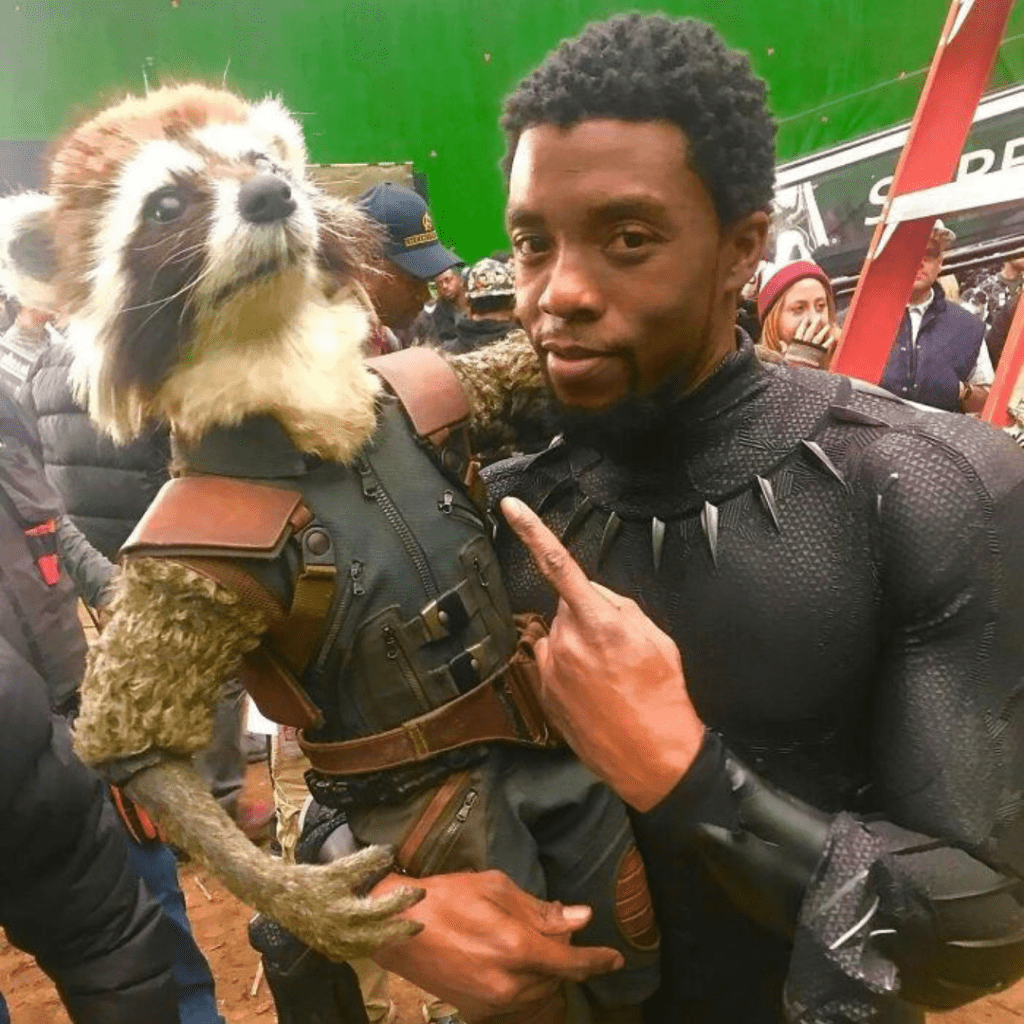 Chadwick Boseman was a marvel (pun intended), and we loved every second he was on the screen. The amused smirk is the complete opposite of the Wakandan leader we know and love. The prop, on the other hand, looks like a piece of taxidermy!
Fake Nebula
Hold on to your space helmets, folks! Karen Gillan, the Scottish beauty who plays the bionic baddie Nebula, was recently spotted holding a fake prop of herself, well, her head, on set. Yes, you read that right—a fake prop of herself!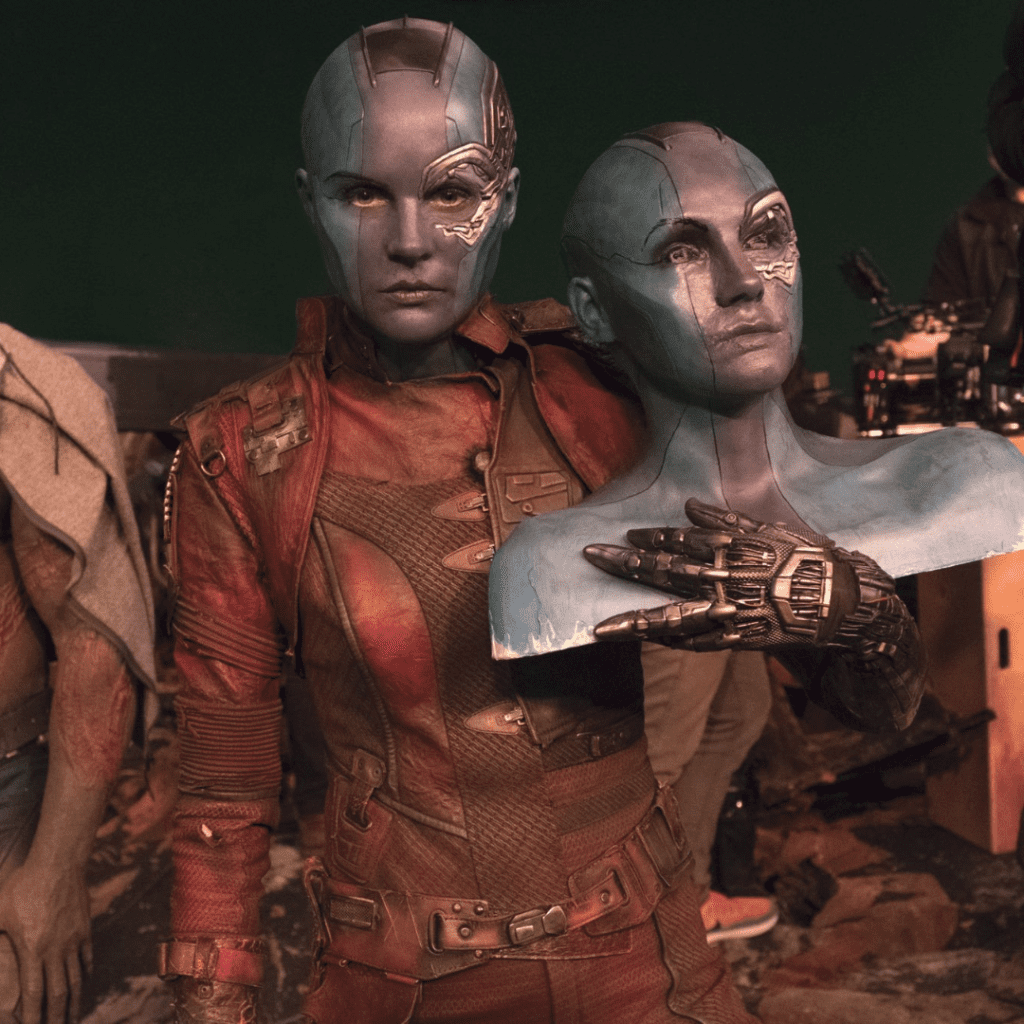 It's no secret that Karen puts her heart and soul into bringing Nebula to life, and this quirky snapshot just goes to show what it takes to make an action-packed movie. It seems that CGI is no replacement for good old props and practical effects.
Ready To Take On The World
Get ready to be wowed by Lupita Nyong'o, who's giving us some serious superhero vibes in this BTS photo. The stunning actress, who played Nakia in Black Panther, looks like she's ready to take on the world as she poses fiercely outside of her trailer.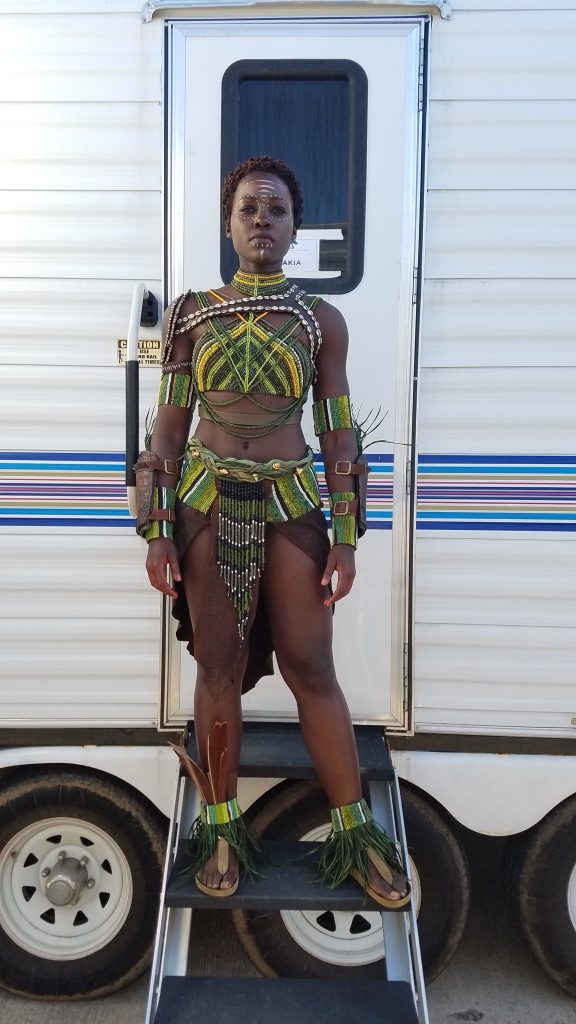 Dressed in full costume, Lupita looks like a total bada** in her tribal-style warrior garb. The details in both the costume and makeup are stunning. Her intense gaze and strong stance show that she means business, and we wouldn't want to mess with her! 
The Iconic Iron Man Suit
One look at the Iron Man suit, and we know what (who) to expect: Robert Downey Jr. flying around and kicking bad guy butt. Now, Iron Man 3 might not have been the best Marvel movie, but fans got one thing we rarely see: someone else wearing the Iron Man suit!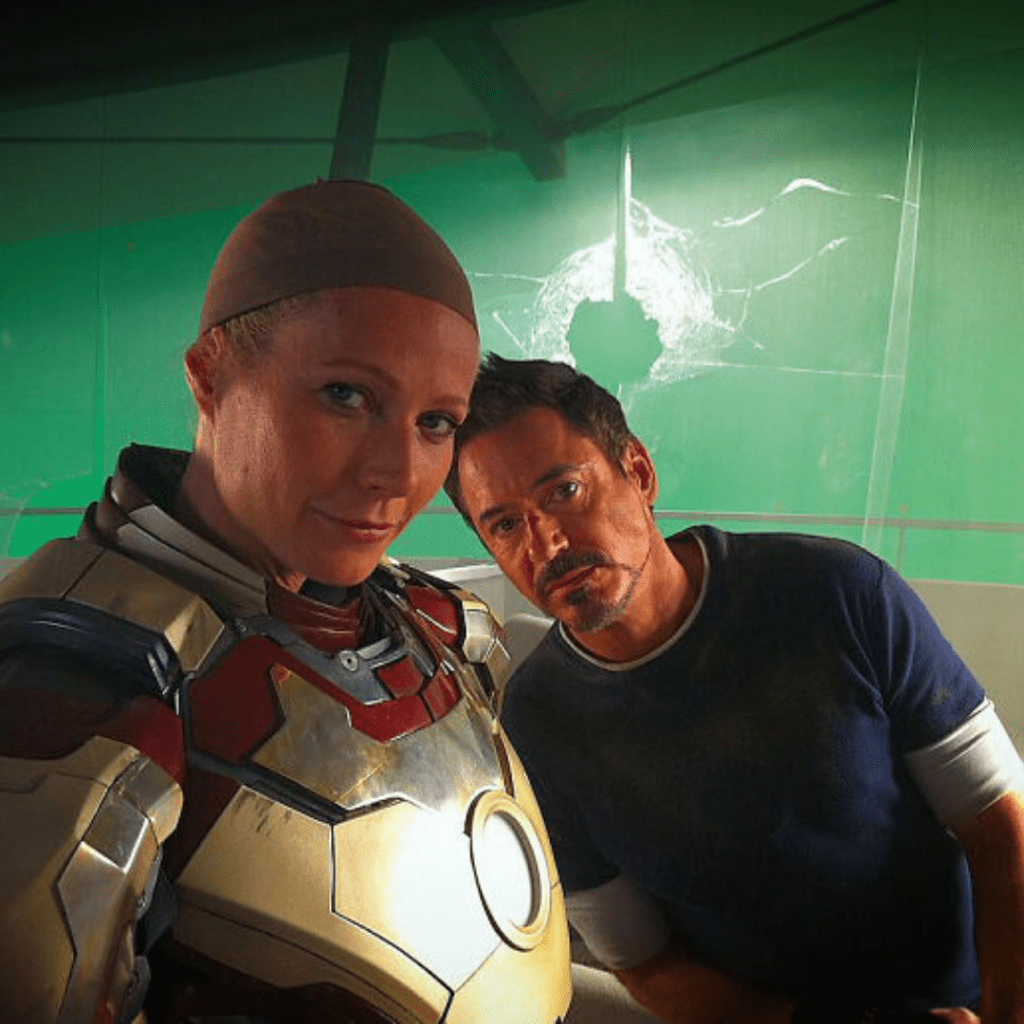 Is it just us, or does Downey Jr. look peeved that Paltrow looks good in his suit? Maybe he knew that this was only the beginning, and Pepper would one day get her own rockin' Iron Maiden suit, aka Rescue.
Chat With The Legend
As the cameras rolled and the lights shone bright, four of the most beloved faces of the Marvel Cinematic Universe—Robert Downey Jr, Benedict Cumberbatch, Tom Holland, and the legendary Stan Lee—were caught in a candid moment, chatting away like old friends.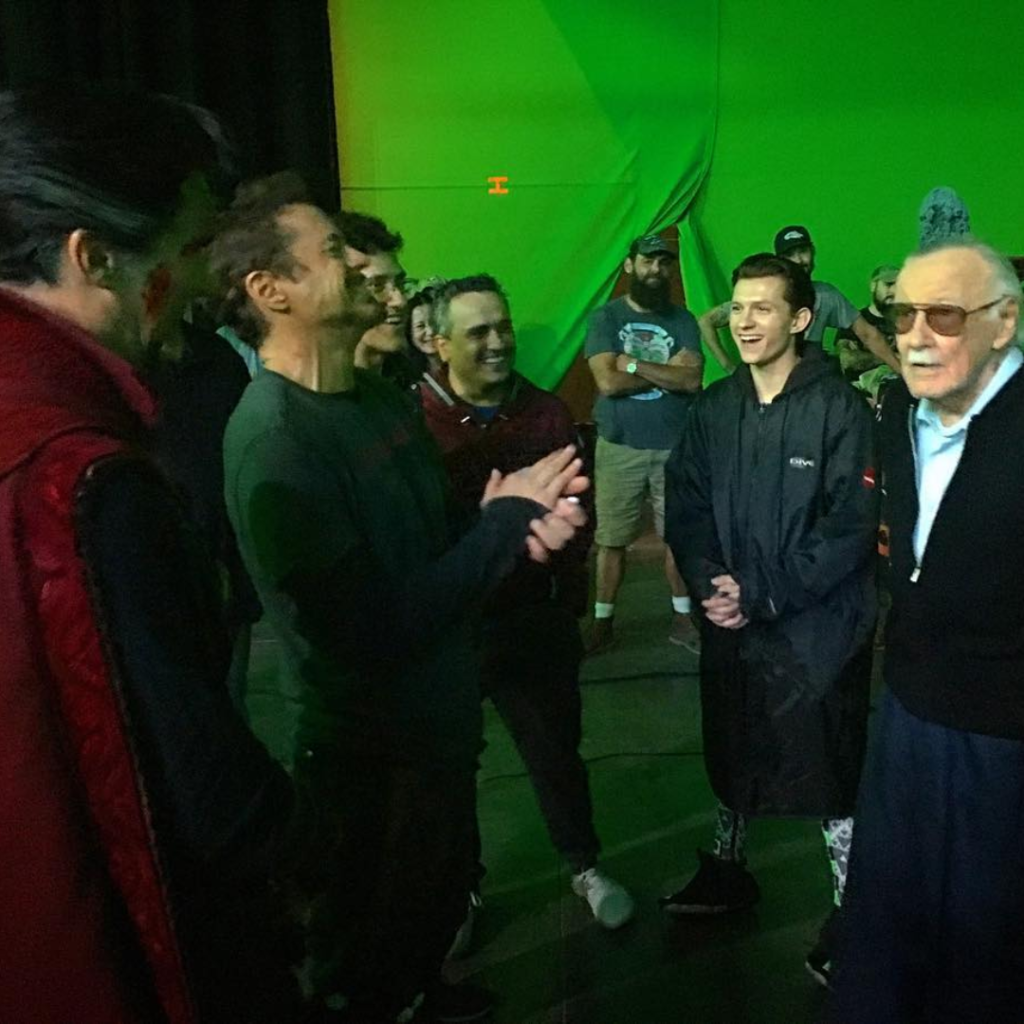 It was a surreal moment for all involved, as the worlds of the Avengers collided in a way that only the Marvel Cinematic Universe could make possible. And though the cameras eventually stopped rolling and the set was dismantled, this moment between these four Marvel icons will be forever etched in the hearts of fans everywhere.